Vivo Resorts Puerto Escondido, Oaxaca Mexico [Review]
During the third week of February, we decided to get out of the cold and head down to Oaxaca, Mexico for some beautiful, sunny, 90 degree weather in Puerto Escondido. While there are a lot of resorts in the city of Huatulco, there aren't so many "resort-style" places in Puerto Escondido. However, we did find a place about 30-40 minutes north of Puerto Escondido called, "Vivo Resorts." It offered a 12 mile stretch of private beach and remoteness.
A Canadian Corporation built the property and the majority of people who stay here are snow birds from Canada.
In this post, I'm going to cover the entire experience, both good and not so good.
As always, if you have further questions, leave a comment below!
I. Property Grounds
Staff
The staff at Vivo are very friendly and helpful. The majority of the service staff speak enough English to understand any needs you may have. Some much better than others. The cleaning and maintenance service don't really know English. But of course, you're in Mexico! So brush up on some basic Spanish anyway…it's good for the mind and makes traveling a better experience.
Pool
There are two pools, that are both fantastic! The pool closest to the restaurant has a small slide for the children, a waterfall, and a volleyball net. I got the impression its mostly for the kids and family. Having said that, there are some days they have open volleyball where anyone is welcome to join. So for those couple of hours the pool fills up with adults and they take over the pool, leaving little room for the little ones.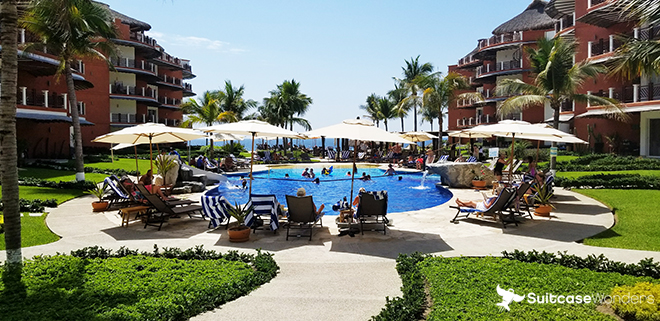 The second pool has an infinity wall that overlooks the beach and ocean, music, and a swim-up pool bar. This is the adult pool, although you'll see the occasional kid or 2. It's not a strict policy that children aren't allowed, it's more of an unspoken rule. But if your child is quiet, not splashing all over, and out of the way, it's fine. But we can all respect having an adult area. 🙂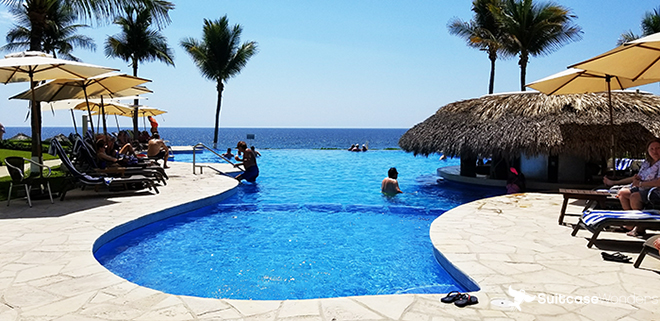 There are pool side wait staff at both pools. You can charge the food and drinks to your room. You can do with with everything, including the market. However, at the lifeguard stand, you can rent boogie boards, ATVs, etc, but that's a third-party, so you have to pay in pesos.
Restaurant
The restaurant has a limited menu, but the food quality is good. Vivo Resorts offers an all-inclusive package for $66 pp, per day. I didn't see an option to add this, when I made my reservation online, but you can email/call to add it.
They have your typical breakfast items, such as eggs, omelettes, pancakes, french toast, etc.
For lunch and dinners they have meals with beef, seafood, chicken, starters, and desserts. On the weekends, they'll have specials that aren't on the menu. My wife and I had some delicious lobster tail for 600 pesos a plate.
If you were to eat all 3 meals a day, for a family of 4, you're looking at roughly $100 USD a day. That's having the two kids share a meal. If you don't plan on drinking a lot of alcohol, all-inclusive may not be worth it.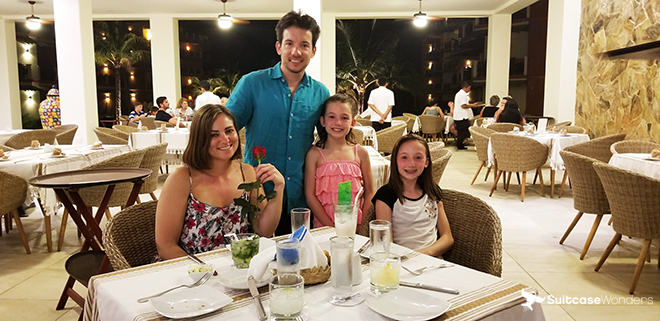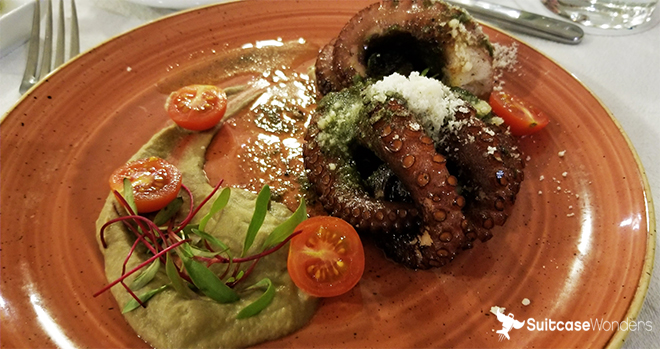 Gym
My wife and I are both gym-goers and at least in the gym 5-6 days a week…at home. While on vacation, my wife stays more disciplined than I do. I always pack (waste space) my tennis shoes and work out gear, but never step into the gym. So I don't have footage of this, but my wife said it has all the basics you need to get a decent work out in.
Market
The market has some basics, but I feel it's missing a lot of useful things. I feel they should have branded gear, rash guard shirts, sand toys, and more fresh foods. I get having too much food may prevent people from eating at the restaurant, but personally I don't think so. You're over an hour round trip from any market in town, so more accommodation in this area would be helpful.
Kids Club
Although we didn't use the kids club (my daughters are a little too old), it seemed nice, clean, and always had some children in it. You would have to inquire with the front desk for more information here.
Activities
Vivo Resorts offer a variety of activities, such as open volleyball, yoga, turtle releases, crafts, etc. They post a weekly schedule near the front office, so make sure to check that out. They have a turtle release weekly in front of the resort, and we all enjoyed it very much! When you go out, bring some pesos to donate to the organization that does it. It's not mandatory, of course, but I'm sure it's helpful, as the organization doesn't get government funding. On the weekends, they have some local artists who setup tables to display their jewelry for purchase. They are there all day.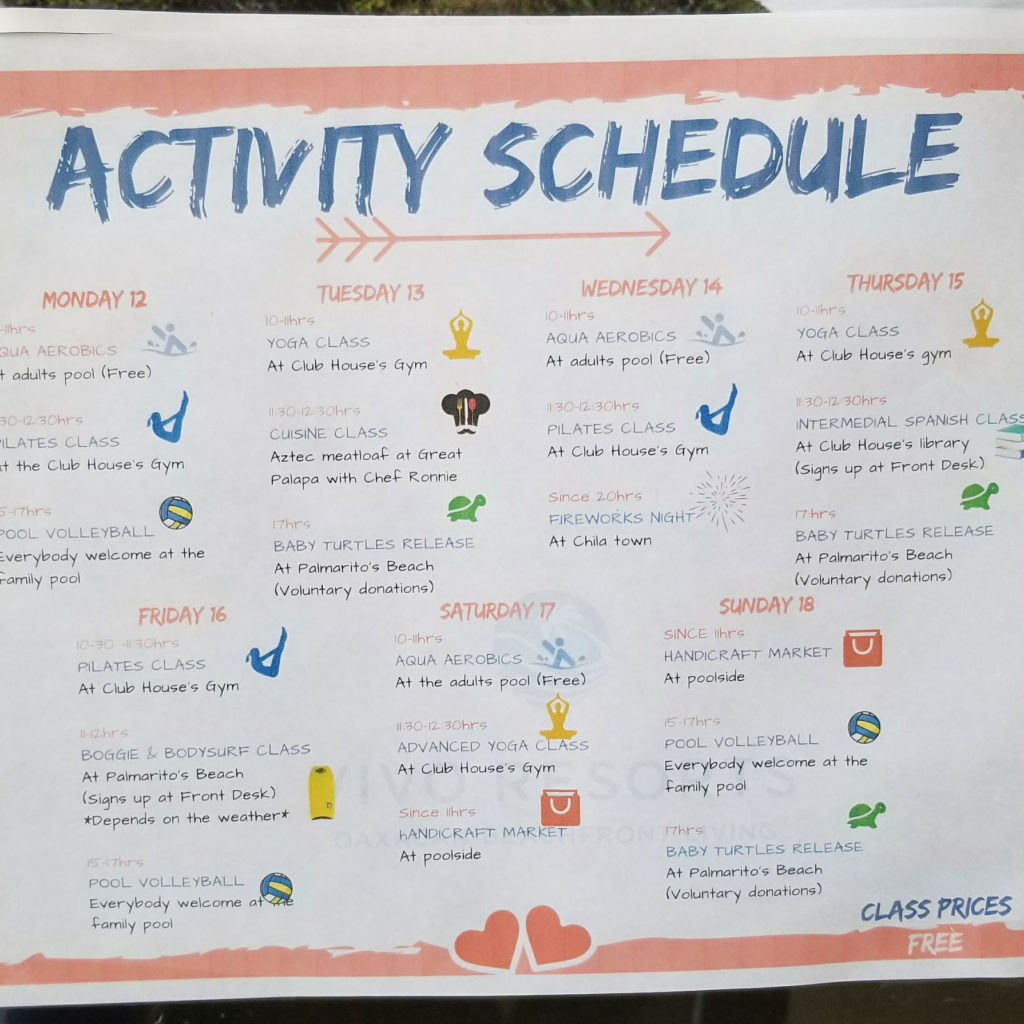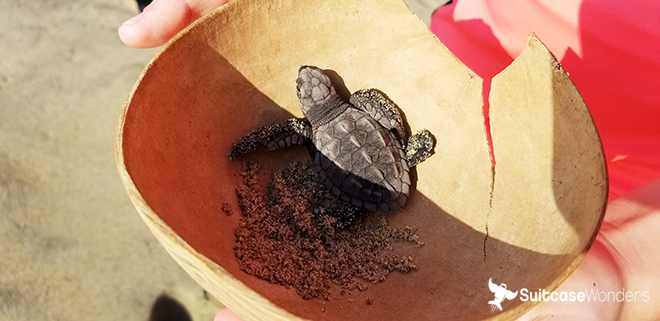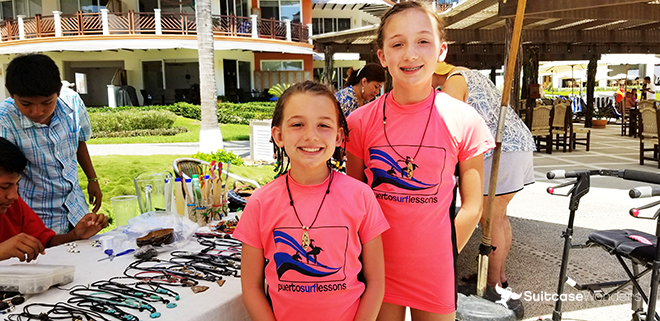 Tours
I typically never book tours with the resort because of the unnecessary premium cost involved. Having said that, I did book one tour for my family to visit the bioluminescent lagoon. Rodrigo, the one who handles the tours, first told me it was 550 pesos per person. I declined and told him that I would book through another tour company that charges 500 pesos per person. He then told me that he would charge 500 pesos per person, so I booked the tour.
The taxi driver didn't speak any English, and when we arrived to the lagoon, he pulled over to the side of the road, and we sat in the cab for 20 minutes. I had no idea why. Finally, we were shown to the boat. Luckily, there was a guy from Baja who helped translate. Apparently the taxi driver needed to get paid before the tour, but he didn't even attempt to explain that. He said something once and that was it. This other tourist had to translate for us.
It's beyond me why a resort, that is filled with English speaking Canadians, doesn't partner with English speaking driver's. I talked with another couple who had this exact same problem. It doesn't make the trip have a good start. There are plenty of English speaking cab drivers in the city.
I would suggest using tours you find on TripAdvisor, that have hundreds of 5 star reviews. That way you know what you're going to get. These bigger tour companies have English speaking guides and it will make the trip more relaxing.
II. Beachfront Suite
Amenities
For this trip, I booked a 2BR, Beachfront Suite. To my surprise, it ended up being 3 Bedrooms, with an incredible view. The suites offer a kitchen that's fully stocked with utensils, dinnerware, and cookware. The staff will bring a big jug of purified water and a pump. We are are family of 4 that drinks A LOT of water, and that jug lasted us for 5 days. Of course, they'll replace it once it's finished. There is no cost to this, and if this is your first time in Mexico, DO NOT drink the tap water. Using it to brush teeth and shower are fine, of course.
The suite did not have a blowdryer, so keep that in mind. The bathrooms have soap dispensers, but no soap, which I found pretty weird. They provide white towels, but make sure you don't use them outside the condo. They offer beach towels at the front desk for pool and beach use.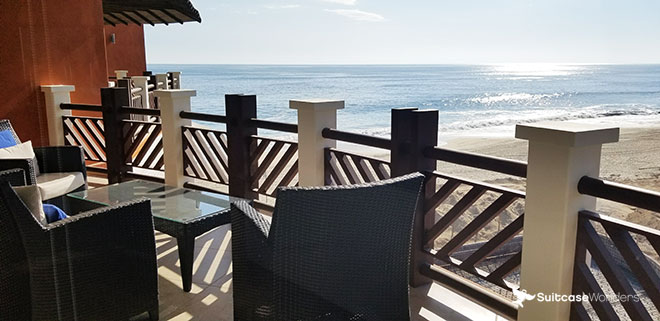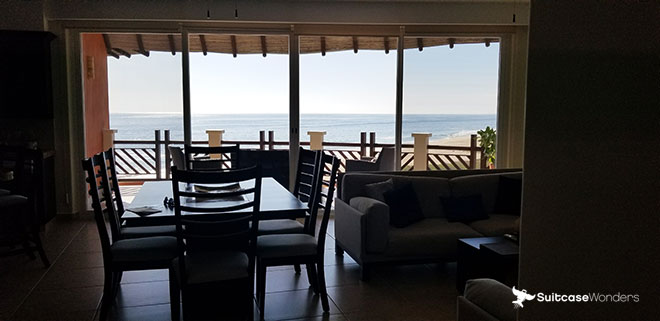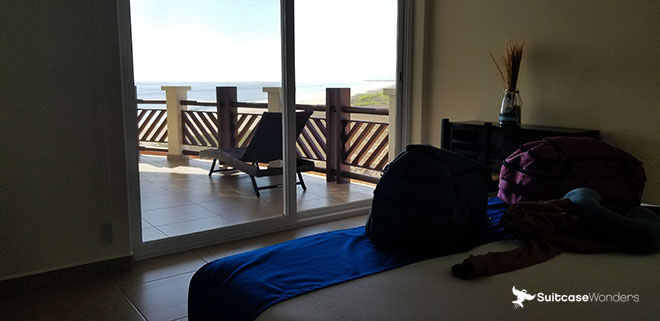 III. Location
Shuttle Service
The shuttle leaves 3 times a day from Vivo Resorts to Puerto Escondido. The times are 9:00 am, 11:00 am & 5:00 pm and returns from Puerto Escondido to Vivo Resorts 2 times a day at 11:30 am & 5:30 pm. The price per ride per person is $50.00 MXN and round trip $100.00 MXN. One thing that was bothersome, is my family reserved spots for our family of 4 for an 11am shuttle. There were other people gathered around waiting for the shuttle arrive. They were all seniors, so being the nice guy that I am, I let them go first. We ended up not being able to fit in the shuttle. So there is definitely some disorganization when it comes to their shuttle reservations, so just keep that in mind. Again, they still have kinks they need to work out.
Taxi
Arranging a taxi is easy. If you're at Vivo and need a Taxi, you can simply have the front desk arrange one. The cost seems to vary. Because there were 4 of us, we used a Taxi every time we needed a ride. Vivo has preferred ones, and they charge about $400 pesos.
Getting a taxi back to Vivo while you're in Puerto Escondido is very easy. Taxi's are everywhere! And they all know where Vivo Resorts is. I was charged anywhere between $250 to $400 pesos. The fair price is $250, but I didn't argue over a small amount. Plus I don't know enough Spanish to do that.
Car Rental
Before we got there, I looked into renting a car and seriously considered it. You won't find the typical rental companies, such as, Budget, Avis, etc. There's a place called Los Tres Reyes and they have an office at the airport. I emailed them and they take reservations via email and you pay when you arrive. I decided against doing this, because I didn't want the burden of having a rental and what comes along with it. Such as the possibility of someone hitting it, or you hitting something, etc. The traffic, in town, can be a bit crazy if you're not used to the organized rules in the US.
Here was the info provided from my email inquiry (email them at: lostresreyes.oaxaca@hotmail.com)
Compact Cars p/4 pers. $800.00 pesos 24 hrs
-Nissan March (automático)
Medium Size Cars p/5 pers. $900.00 pesos 24 hrs.
-Dodge Attitude (automático)
-Tiida (estándar)
-VW Vento (estándar) p/5 pers. $950.00 pesos 24 hrs
We have available Vans y Jeeps Wrangler 4×4. ($1,800 pesos per 24 hours)
The rental service is for 24 hours, if you deliver the unit after the hour marked as return, for each extra hour are $ 100.00 pesos.
To make the rent we require a security deposit of $ 15,000.00 pesos, this is generated with your credit card. The deposit is refundable when you deliver the unit in the same conditions as the delivery was made.
In the rental price is already included the Ample Coverage Insurance, in case of accident or theft, the driver is responsible for covering a deductible of the commercial value of the unit of 10% or 20% depending on the percentage of deductible that the policy handles for sure.
For minor damages such as dents, scratches and bumps where the damage does not exceed the deductible, the cost of the damage must be fully covered by the driver.
The kilometers are unlimited.
We have an office at Puerto Escondido Airport, we can deliver the unit there, only you confirm your flight and time of arrival, we also request a no. phone to be in contact with you.
We do not require advance deposit to make your reservation, you can confirm via E-mail, the requirements are requested when the unit is delivered.
Requirements:
Current driver's license
Identification (IFE, INE, Passport)
Credit card
IV. Areas that could use work
Below is a list of things Vivo could use some improvement. Of course, this is my personal opinion, so take it lightly.
Wifi
If you get a condo that's near the beach, you won't get service or wifi in some units. Everytime I needed wifi, I would have to walk outside. Of course, this isn't a problem for most on vacation, but I own a business and need to stay connected.
Rough walkways
I just find this to be a minor design flaw. All the sidewalks are made of small rocks. So forget about walking around the grounds barefoot! When I'm at a beach resort, I don't particularly like having to wear shoes the entire time. Again, just being nit-picky here.
Shuttle and tours not organized
As mentioned above, it seems making shuttle reservations doesn't matter, because you can get bumped from your ride. Also, it's probably better to book your tours through a highly-rated tour company from TripAdvisor. They'll come pick you up.
Condo Bathroom
They have soap dispensers, but no hand soap. You'll have to buy this from the market. Just thought this was an odd thing for a resort. A blowdryer in the unit would of course lighten your load of packing.
Need larger market
For being so far away from everything, having a larger selection of foods and items would be nice to have.
Far from town
If you plan on exploring a lot of Puerto Escondido, this may not be an ideal place to stay for you. So if you're a younger family looking to explore, a place in town may be better. If you're just looking to do absolutely nothing but lay around, then Vivo Resorts is ideal. For even having Shuttle and Taxi service, it's a big pain traveling back and forth, as it takes 30-45 minutes to get to town. Unfortunately, we didn't get to see most of the things we wanted to in town because of this reason.

Kids menu
If you're traveling with children, which I saw several people doing, it would be nice to have a kids menu. Instead you're stuck with getting adult size portions. I made my two daughters share everything to avoid waste. But anyone with two kids know how sharing one dish goes…
No phones
The condo units don't have phones! This means if you need anything from the staff or want room service, you have to walk to the dining area. If you're in a beach front condo on the 4th floor, walking back and forth several times a day doesn't jive well with a beach resort vacation.
So in conclusion, if I were to stay here again, I would get a condo on the first level next to the pool and dining area. Having the views of the beach was wonderful and beautiful, but you can get those just by walking to the beach. Not to mention, during our stay, we endured 4 earthquakes, with one of them being a 7.2 magnitude. We had anxiety and didn't sleep for the last 3 days of our vacation because we were on the 4th floor. Following the 7.2, we went through a 6.0, 5.2, and 4.1 aftershocks.
V. Things to do in PE
Surfing Lessons
I booked a surfing lesson for all 4 of us through puertosurflessons.com. We had our taxi driver take us to the address. I had to put the address in my phone navigation and show the driver how to get there. When we arrived, we went through the large wooden gate and entered the house courtyard. Celestino (owner) greeted us and we began the lesson immediately. We first simulated the basic stance on the ground. We repeated this several times, to help build the muscle memory. Following that, we put our rash guard shirts on, left all of our belongings, grabbed a surfboard, and walked down to La Punta. Celestino and the other instructor led us down to the water and we began to paddle out. Another assistant took my gopro and took photos of myself and the family the entire time. I gave him about 200 pesos for doing that, I believe. My 12 year old and I got up on the board and starting riding waves immediately. My small, 9 year old daughter got toppled by the first wave and was done. Same with the wife. The girls didn't like it so much, because of how powerful the waves were. I thought the waves were small at La Punta and absolutely perfect for beginners. There was probably 30-40 beginner surfers out there giving it ago. I highly recommend this activity if you're the adventurous type of family, especially with Puerto Escondido being a surfer town!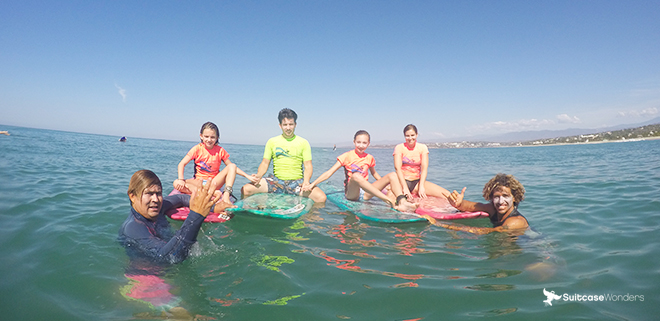 Laguna de Manialtepec
While I wish we did this with a tour company from TripAdvisor, the experience was still pretty awesome. When you arrive at the location, you strap on a lifejacket and jump in a boat. During the entire ride, the boat driver is keeping an eye out for the plankton to find a good spot to see the bioluminescent activity. We were on the boat for about 20 minutes before stopping. Where we stopped, there were several other boats filled with people. Everyone was in the water swimming around the boats. All 4 of us jumped in and got a kick out of how cool it was having glowing plankton all over our body. And the water was so warm! The girls absolutely loved it, and it was one of their favorite memories of the trip. So if you're traveling with kids, this is a must! *Tip: Try to go on a New Moon if possible. Google "new moon calendar" and try to plan around that. That way the sky is at it's darkest.
Playa Carrizalillo
Play Carrizalillo is one of the most swimmable beaches in the area. It can get quite crowded in the small area, which is the only negative. A good tip is to go early! There are many restaurant options to eat, right on the beach. Grab a fresh coconut, snack, or beer and relax. This beach is perfect for that! There are bathrooms, even though they may be a little more 'rustic' than what you are used to. You'll have to pay a small fee to the "kid attendants." It's about $.50 cents. You can also rent a covered beach chair or table for around $10.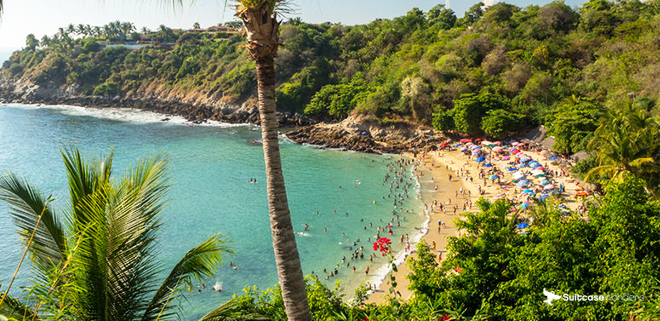 Playa Zicatela
Zicatela, also known as the Mexican Pipeline, is a beach for surfers, or to watch people surfing. The water is pretty clean, soft sand and lots of restaurants that cater to tourists. At least visit this beach once and watch the sunset because it's the only beach where you can get a full view of the sunset. If you're looking for a beach to play in the water with kids, this is not it! The undertow and riptides are strong, and so this is not a safe beach for swimming…beware and heed the "no nadar / no swimming" signs!! Check out La Punta, which is on the far North part of Zicatela. Check out Carrizalillo, too.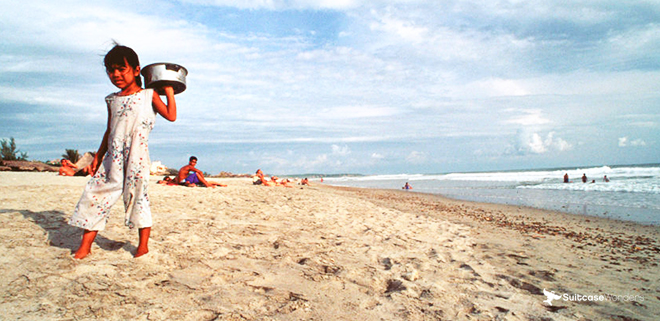 Benito Juarez Mercado (El Mercado)
There is only main market in town. You can talk to any driver (taxi, etc) and tell them you want to go to the "Mercado" and they'll know exactly what you're talking about. This is the place you'll want to go to pick up Puerto Escondido souvenirs. The area surrounding the Mercado is very busy, with people walking around everywhere. In case the thought crosses your mind, yes the area is safe! I walked all over the place with my wife and two young children. The market is broken into separate sections. There will be a section with several places to sit down and eat. A big area that has souvenirs, clothing, etc. Another section has a bunch of produce, fruits, etc. And another section with tons of different meats. We grabbed some fresh chorizo, tostadas, fresh veggies and lots of fresh fruits. It made for some delicious lunch & dinners!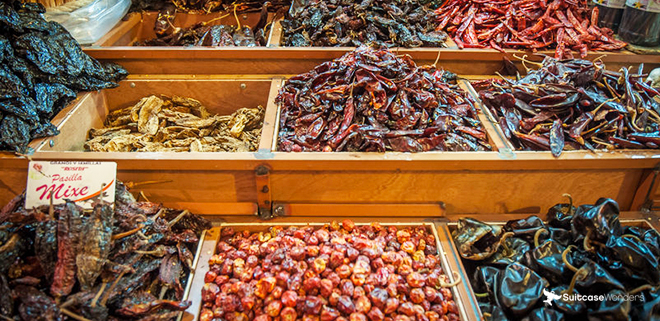 Here are some tips for the Mercado:
-Visit on a Saturday or Wednesday morning.
-Bring shopping bags!
-Stroll up and down ALL of the aisles and don't miss anything
-It's a feast for your eyes, so watch where you walk…the place is a maze.
-If you don't leave with fresh food or a souvenirs you missed out!
Here's a fun video showing our entire Mexico Trip:

Please leave any comments you have below and I will answer them very quickly. I get notifications as soon as you leave a comment and I love to help others out. Thanks for reading!