Plitvice Lakes National Park, Croatia – Benefits of Renting a Car
During your research to Croatia, it's likely one destination that you'll find consistently showing up is Plitvice Lakes National Park. And after my recent visit, I completely understand why.
I'm a US citizen who has never rented a car outside of the US. I'm not counting the time I rented a scooter on a small Indonesian island. I've always hired drivers or took Uber for the fact of being paranoid that I was going to get hit with a massive bill when returning the car. While there are plenty of those horror stories floating around the internet, they are the opposite of what I experienced. This trip really opened my eyes to exploring countries by car and encouraged me to rent vehicles more when I'm overseas.
A perfect time to visit Plitvice Lakes (or Croatia in general) is mid-September. It's coming to the end of tourist season and the weather is perfect. It's not too hot, although it is still crowded. I couldn't imagine visiting during peak tourist season! Many locals I talked to throughout the country agreed that September was the best time.
In this article I'm writing about our experience driving from Zadar to Plitvice Lakes National Park. Make sure to read to end for helpful gems spread throughout the article.
Drive From Zadar
If you're heading to Plitvice Lakes from Zadar, I highly encourage you to drive yourself and avoid any organized tours if you can. There are a lot of benefits to doing this, which are outlined below.
I highly recommend using Air Rent-a-Car Company, located in the Zadar City Center. You can read my detailed TripAdvisor review here.
Roads
The road infrastructure is new and some of the best I've ever seen. I've driven on worse roads in the US. The traffic is very minimal and the road signs are easy to decipher. It's pretty much a straight (not literally,12 the roads are quite whindy!) shot from Zadar. The main highway is a toll road. So when you get to the toll booth, you'll see a black button to push, which will dispense your ticket. The button is not clearly marked and may seem discrete, so keep that in mind. Hold on to your ticket, because you'll have to pay a small fee as you exit the freeway when you get close to Plitvice. There are also several tunnels, with one being about 5700 meters! I used the Waze Navigation app and it worked perfectly.
Timing
As mentioned earlier in this post, it's important to leave early! Plitvice Lakes opens at 7am and not long after that, people start pouring in. We arrived at 8:15am and there was already a couple tour buses. At this time, there was plenty of parking. Once 9 to 10am comes around, the parking lot fills up quickly and the tour buses start rolling in. Having your own car (or private driver) gives you the maximum benefit to ensure you arrive early before the crowds.
Beat the Line
It doesn't take long for the ticket line to build up. If you're there early, you can get through the ticket line and into the park easily.
Scenery
The drive to Plitvice Lakes is absolutely stunning. You drive through an agricultural area, that's filled with a bright green landscape, old farm houses and large mountains. At least this was our experience in September. Having your own car gives you the flexibility to stop where you want to take it all in.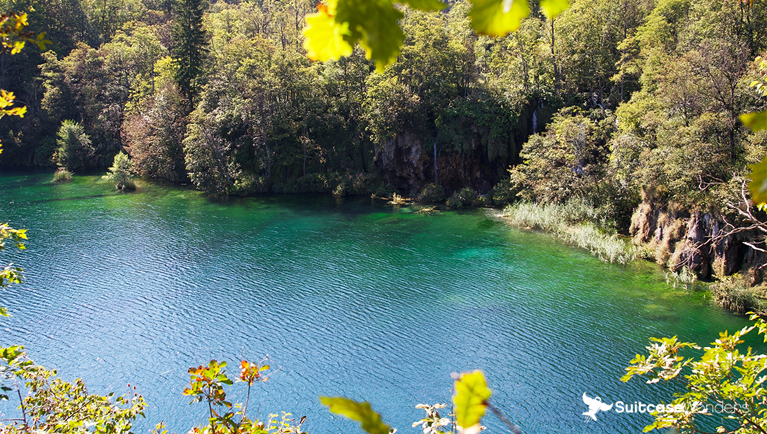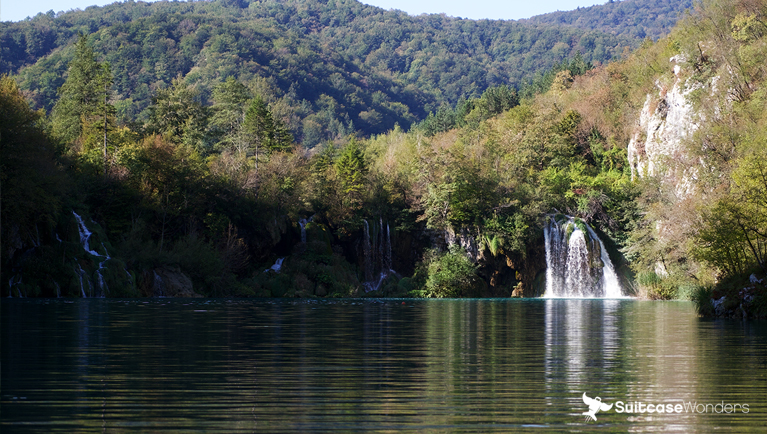 Honey and Cheese
As mentioned, you are driving through an agricultural area. It's also one of the poorest areas in Croatia (although it doesn't look like it at all). A lot of the farmers produce honey and cheese, so you'll see tons of small stands with signs that say "Sir Med" selling honey and cheese. This is a good opportunity to not only support the local community, but it's a great gift that's fresh, organic, and straight from the source. When I was driving back to Zadar, after touring Plitvice Lakes, we stopped at a restaurant half way through our trip. I ended up talking to a local tour guide who was shuttling a private tour of 8 people. He highly encouraged us to stop at these stands and purchase the honey and cheese. It's much cheaper to do that, than pick some up at the markets in towns like Zadar, Split, etc.
Food
Coming from locals, the food is notoriously bad in Plitvice Lakes. Pack some snacks, but save your lunch or dinner meal for outside the lakes. There are several small villages on your drive back. Usually I research places to eat thoroughly, but figured this time we would just stop by a random restaurant and give it a try.
Pricing
The Park entrance fee costs 150 Kuna per person (about $23). You can pay by credit card. We bought the tickets at the booth and not in advance (not sure this is even an option).
Parking cost us a total of 49 Kuna (about $8). You don't pay upon entry. You pay the fee at the payment booth before you get into your vehicle to exit the park. We paid with our credit card.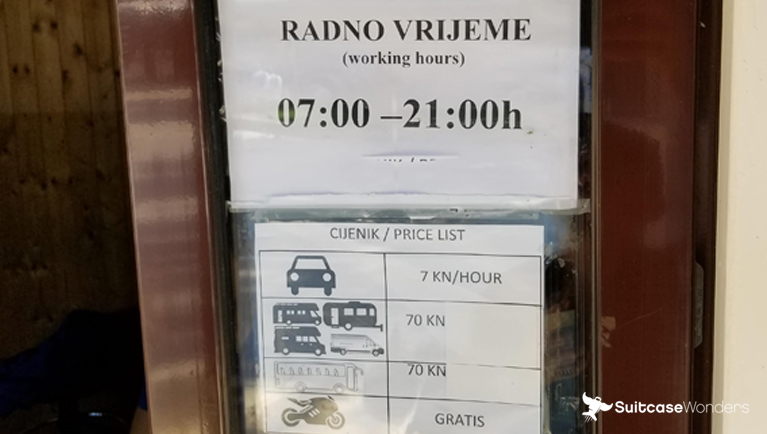 Entrances
There are two main entrances to Plitvice Lakes, labeled "Entrance 1" and "Entrance 2." If you're using Waze, it will identify the locations on the app. Entrance 1 is past Entrance 2 (if you're traveling from Zadar), so don't let that confuse you. Both entrances have plenty of parking, toilets, food and souvenirs.
If you're driving, you should park at Entrance 1! Here's why…
This is where the big waterfall is. The one you've seen in most photos of Plitvice Lakes. This area gets the most crowded, which is why you want to start your journey at this entrance. You can get some great photos before the tour groups start flooding the area.
While you're standing in line at the ticket booth, send someone you're with to grab a trail map. Or ask the person at the ticket booth.
Trails
There are multiple, labeled, trail options for you to choose from. From easy 2 hour hikes up to 8+ hours. We opted for a medium to hard trail and explored for 6 hours.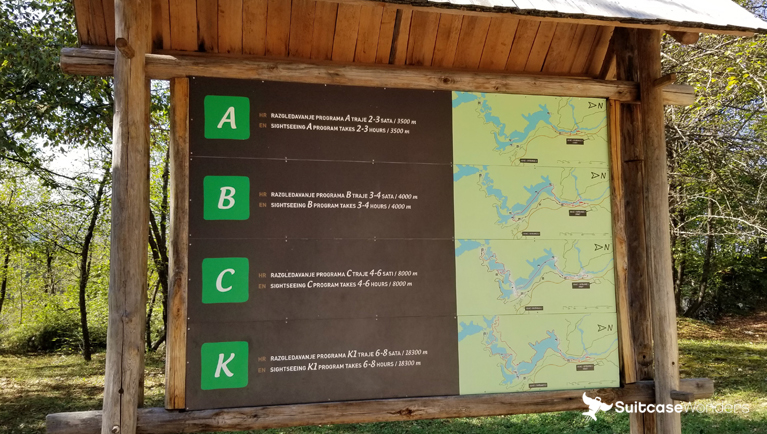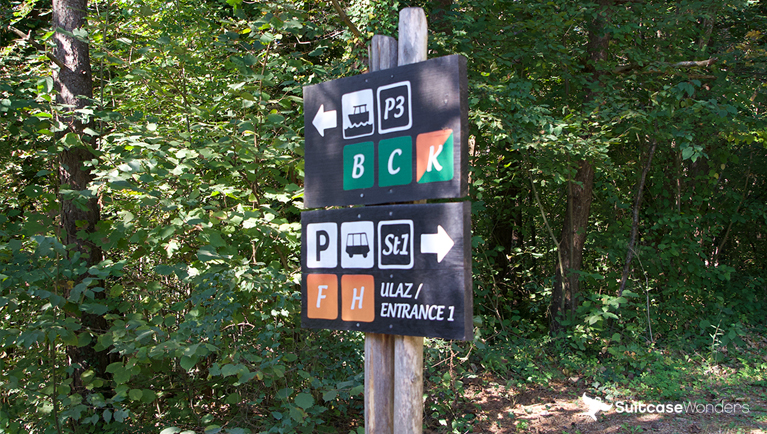 Photos
If you're into photography, I'd highly recommend that you bring along your ND filter to get those beautiful long exposure shots of all the waterfalls. There aren't a lot of places to put a tripod, because you're on a narrow wooden path most of the time and all the people walking on it will make it shake. Another advantage of getting there early if you're trying to get those perfect shots!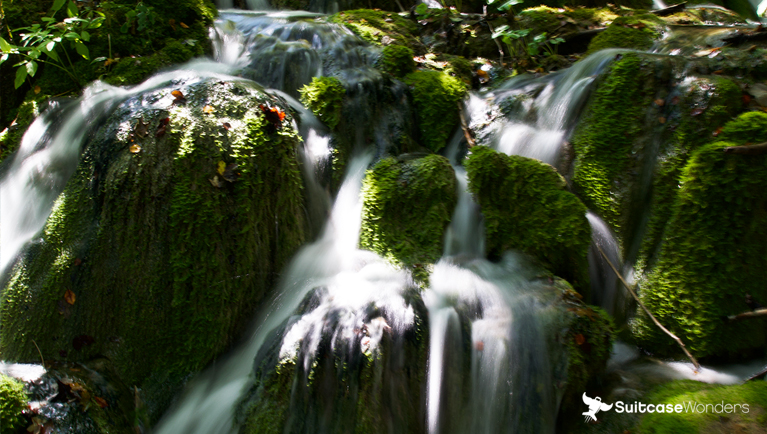 Ferry
You'll see on your map that there is a ferry that will take you across the water, close to entrance 2 (or vice versa). There is no additional cost to take the ferry, but have your ticket handy, because they'll want to scan it before you get on the boat.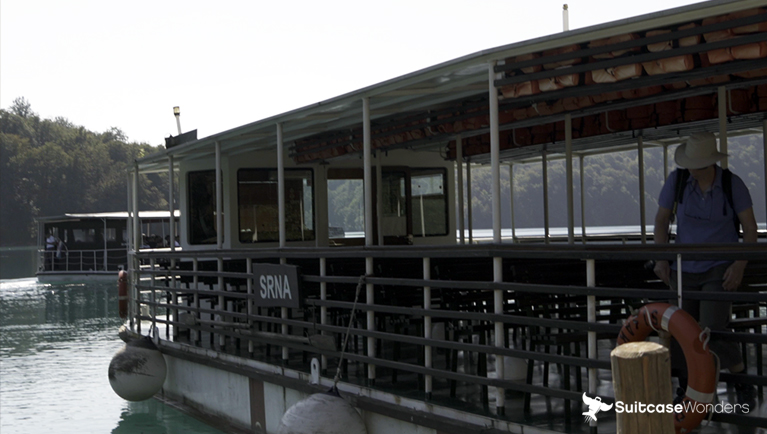 Trams
There are multiple stops throughout the park that a tram will take you to. This is very convenient, especially if you're tired of all that walking! So don't be afraid to walk deep into the Park, because you can simply jump on a Tram that will take you right back to the entrance.
Thank you for taking the time to read through this article and I hope you found it useful. If you have any questions, please don't hesitate to leave me a comment at the bottom of this article. I'll make sure to get back to you promptly.