[How-to Guide] Parasailing in Boracay Philippines
One of the things I was looking forward to the most was Parasailing in Boracay. Right away, I knew it was something I wanted to do! When walking around the Station's in Boracay, you'll be asked about 275 times by people if you want to parasail.
In this post, i'll show you how to parasail in Boracay without the help of anyone else. It's simple!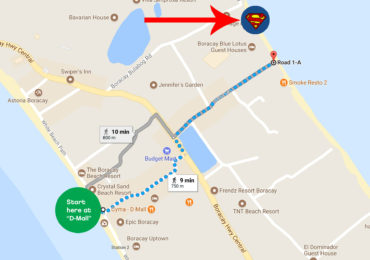 No matter where you're at on the island, getting there by foot is easy. In Station 2, there's a large outdoor mall, called "D-Mall." It's hard to miss, as there are signs and you can simply ask anyone standing around in front of their shops for directions. Walk straight through D-Mall and on the other side, you'll find a rectangle-shaped body of water. You're now in the center of the island. Turn left and continue walking to the north end of the lake and make a left and walk east, past the water. Walking through across the street is madness! You'll be dodging scooters, cars, people, etc.
Continue walking East until you find yourself on a narrow path, where vehicles aren't allowed. The path takes you straight to the beach. Once you reach the end, make a left and head toward the boats. Look for the red and white boats with the super man logo. You'll have several people come up to you, as you're walking along the beach, asking if you want to do water activities. Just ignore them and once you see all the boats with the Superman logos that say "Diamond Watersports," look to your left and you'll see a building with red awnings. Walk up to the building and you'll see a few people with yellow shirts sitting down. Let them know you want to Parasail. Prices probably fluctuate for high and low season, but you can certainly haggle. They offered us a price of 900 pesos per person, which is a great deal, so I didn't bother with haggling. I believe during high season, it's about 2000 pesos per person ($38 USD), but I've read about people talking them down to 1000 pesos per person ($19 USD).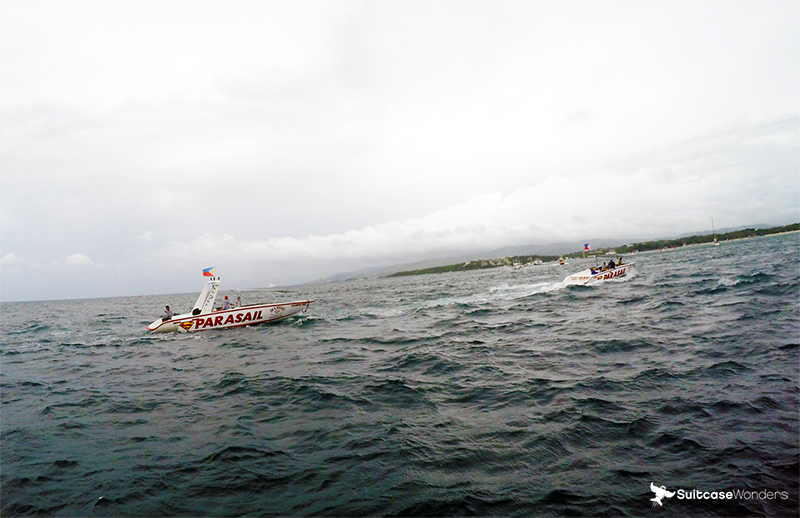 I paid with my debit card, and minutes later we were on one of the boats, getting the life jackets strapped on.
The boat took us out to a dock in the middle of the water to transfer to the parasailing boat. While waiting for our boat, we enjoyed watching the masses of people paragliding, jet skiing, boating, etc. We saw speed boats with massive tubes, holding about 12 people, which looked like a lot of fun too!
After 5 minutes, we jumped on the boat and got strapped into our harnesses as the boat drove further away from the island. Once our harnesses were secure, I situated my GoPro, and the boat crew attached us to the parachute. They instructed that if we wanted down, we simply move one arm in a full circular motion.
Within seconds of being attached to the chute, the wind picked us up in the air! For the first couple of minutes we weren't that high, maybe 15 feet, and I was under the impression that's as high as we were going. That thought quickly vanished as they gave more slack to our line…then more…then more. I felt like we were higher than everyone else on the water! I didn't imagine would we would be so high.
The boat drove back towards the island, which gave way to incredible views of the entire island of Boracay. It was amazing seeing the beautiful shades of blue on the water. I have to admit…there are fearful thoughts that come along with this, such as, "what if the wind stops and we drop," "what if the shoot tears," "what if a strong wind current comes blowing through," "what if we slip out of the harness," and so on. I'm pretty sure everyone has these thoughts pass through their mind, haha. But at the same time, there was calmness and beautiful views that outweighed those crazy thoughts.
The entire trip was about 15 minutes. Getting you back down is a slow process, and at the end, you'll end up right back on the boat. You don't get wet at all, surprisingly. They'll take you back to the floating dock, and minutes later you're loaded back on a boat that will take you back to the island.
Overall, the experience was absolutely worth the price, and I feel, a must-do experience in Boracay!
Enjoy!