Complete Travel Guide to Nusa Ceningan, Indonesia
Nusa Ceningan is a tiny Indonesian island off the south coast of Bali. It's a tiny island that's perfect for a short, relaxing stay that isn't over ran by tourists. I couldn't imagine staying for more than 3-4 days, and doubt most tourists do, but it's certainly worth checking out! We chose this place to wrap up our half-month vacation to unwind and get away from the bigger cities we visited. It was a great choice and happy that we experienced it. Nusa Ceningan doesn't have a lot of tourists, you're likely to see the same people here and there, throughout your vacation, and it has a nice chill island vibe.
I've put together this guide below to help you plan your upcoming trip to Nusa Ceningan, Indonesia.
Getting to the Island
Getting to the island is simple and isn't too time consuming. First, we took a taxi from Ubud to Sanur Beach (about 40 minutes). There are tons of "cruise companies" lined up on the street and your taxi will ask what cruise company you booked with.
There are two types of ferries. The fast one ($25 one way, per person), which takes 30 minutes, and the slow one ($10 one way per person), which takes about 1.5 hours. We opted for the fast cruise with the company called, "Rocky Cruises." It's one of the best cruise lines. We bought our round trip tickets online here. On our way to the cruise office, we were trying to figure out how we were going to get to our Villa on Nusa Ceningan. To our surprise, when we checked in at the Rocky Cruises desk, they said they are providing a ride from the port to our Villa, which is included in the ticket price. This made our journey even more stress free! This is definitely the way to go, if you're headed to one of the Nusa islands.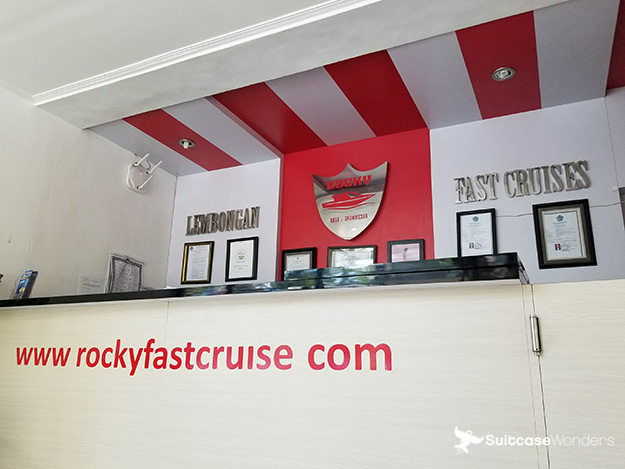 When our driver arrived to the Rocky Cruise office, we loaded up our luggage and took a quick 3 minute drive to the departure port. Our driver walked us to the beach, where you'll see covered waiting areas from all the different cruise companies. We were led to the Rocky Cruise area, they took our luggage to add to the pile of other luggage and we waited about 10 minutes before getting loaded on the boat.
*TIP: When it's time to board the boat, you'll get wet to about your knees. Make sure to wear shorts and flip-flops!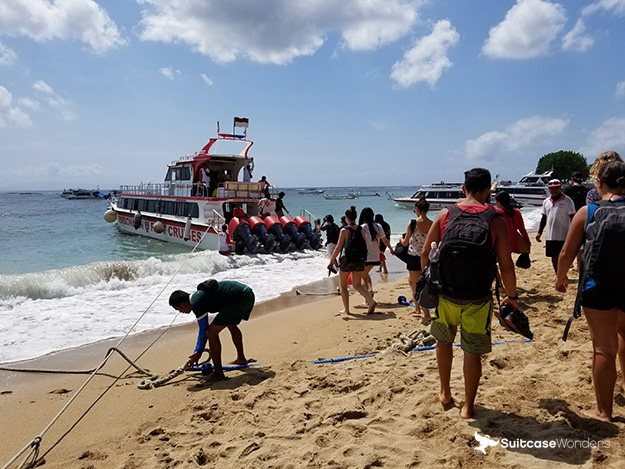 The ride there was short and quick, while giving great views of Mt. Agung on Bali Island. After you go up the boat ladder, find a seat on the left side with a window for great views and photo-taking opportunities.

Arrival to Nusa Lembongan
The arrival port is located on Nusa Lembongan, Island. You'll have to travel through this island to get to Nusa Ceningan. When you get off the boat, a Rocky Cruise Rep will find your name tag and have you stand in a group. Once everyone is organized, you'll jump in a truck and head to your destination. This involves approx 30 minutes of a really bumpy ride! You'll be dropped off at the yellow bridge that connects Nusa Lembongan to Nusa Ceningan, which you'll then have to walk across.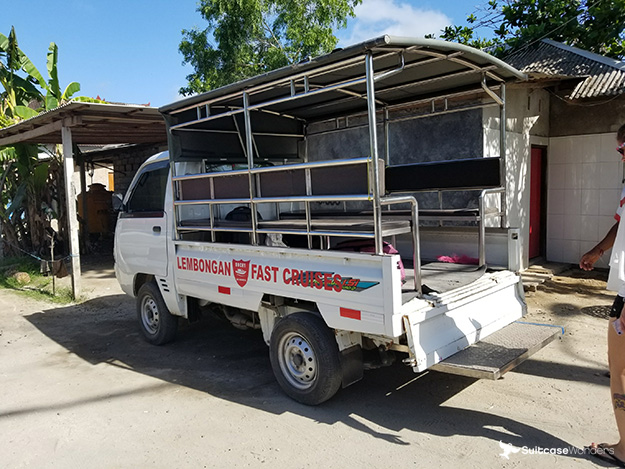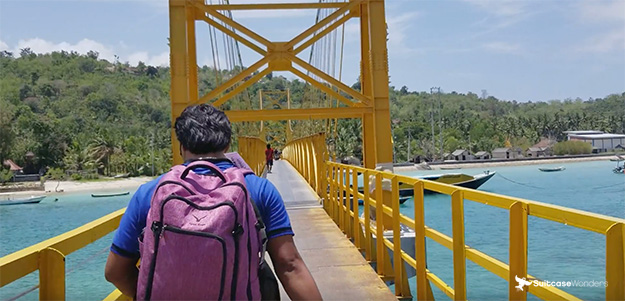 When you make your first right, at the street, after crossing the bridge, you'll find small shops, villas, and restaurants. You'll see a lot of stray dogs and roosters all over the place. The roads are semi-paved and narrow…some areas better than others. You will see an occasional truck hauling things, but that's it. It's mostly locals and tourists on scooters. I remember reading a blog and someone mentioned that they wouldn't rent s scooter on Ceningan because of the bad roads. I find that to be completely false! The roads aren't as good as the western countries, but they are perfect for first-time scooter riders.
Getting Around [First-Timer Scooter Adventures]
The absolute best way to get around the island is by scooter. I'd suggest making sure the villa you're renting from will have one available to rent. Most of them do. It's much more stress free than having to find a rental shop and all the potential troubles that could come with that. The villa we rented from showed me a quick intro to the scooter and gave me the keys. No paperwork, no hassle. I was charged 70,000 rupiah ($5 usd) for a full day. It was an older bike and the gas gauge didn't work, but being my first time, I preferred that over a new bike. I bought an international driver's license before I came to Indonesia, but didn't bring it with me as I explored the island. The stories you've read about police pulling you over for bribes are on the bigger islands. Looking back, I'm so glad I chose to learn how to ride here and not on Bali mainland. That place is madness and definitely not for beginners!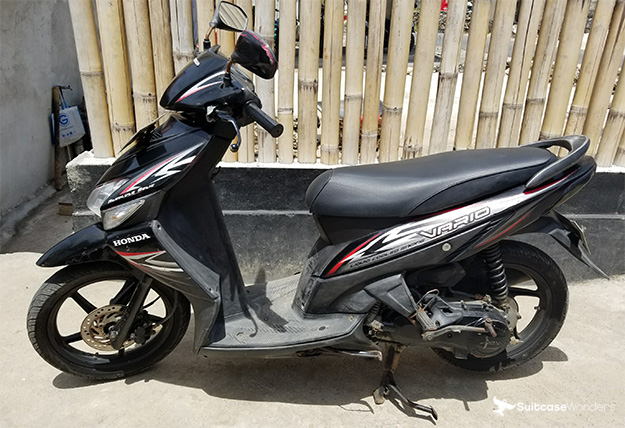 Being in my 30's, I'm much more cautious of my surroundings and try to minimize injury whenever possible. I took the same approach to driving the scooter. Before letting my wife ride on the back, I drove a few hours by myself. Getting on the scooter and going is very simple. But like anything that's new and involves multiple elements to think about, a couple mishaps may happen. So get those out of the way before driving the wife around and end up divorced. As I was trying to read signs, slow down, turn around, look all directions, I tipped the bike over and jumped off. Luckily no one saw me…it was embarrassing. I didn't get hurt and of course welcomed this new challenge.
After a few hours of practice, I was ready to add on that extra weight on the back (but not a lot of weight…love you babe!). We drove to a couple locations that I already scouted out and knew the route. Driving on the other side of the road was not a challenge at all. It came quite easy. The worst part is when a truck is coming down the narrow road, leaving you very little room…so just slow down, move over to the left, and avoid potholes. Going slow is the key. Other riders will go around you, so don't mind them. Driving at night was fine, and I limited myself to one drink when we went to a restaurant. Day 1 of riding was a success.
The following day, after our arrival, we had to get up early for some scuba diving. We jumped on the bike and we're off to a great start. On the second day, I felt like I had the hang of it…then boom. We came to an intersection, I couldn't see around the corner as good as I thought, accelerated, saw a bike coming straight for us, slammed on my brakes and we slid on loose gravel. We both jumped off unharmed. Lesson learned. I should have came to a complete stop and had a better look. Take your time, and don't try to keep up with all the other experienced drivers! We were heading to the Dive Center to Scuba for the very first time, so Shellee was already shaken and anxious because of that. It was probably the worst time to have that accident. Luckily she was cool about, we dusted ourselves off, and continued. I'm still married after that, so a pat on the back for me.
We ran out of gas once, but literally in front of a petrol stand. I paid 30,000 rupiah ($2 usd) for a full tank and went on our way. It's good practice to check your tank from time to time in case the meter doesn't work. Another great tip (if you're new) is to wear shoes. Throw your flip flops in your day bag. It's not required and you'll see most people wear flip flops, but I would highly recommend it. It's mainly because you have to push the bike around, guide it when you first take off, and you can feel like you have better control without your flip flops slipping off.
The rest of the scooter adventure went smooth and driving around a beautiful Indonesian island with the wife was checked off my bucket list.
What to do in Nusa Ceningan
Again, this is a very small island, so there is a limited amount of things to do. I'm going to outline all of the must-do places to eat, stay, and visit. This should help you build a complete itinerary for your trip.
Where to Eat
I was so impressed with all the places we ate at on the island. It seemed that everyone that prepared the food took special care and attention to detail. All the dishes I had not only tasted amazing, but had beautiful presentations! The majority of English menu's you'll receive will have a lot of misspellings, so don't judge the food from that! A really popular breakfast dish, that you will see at pretty much every restaurant are "Smoothie Bowls." These are excellent and I had one every day.

Sea Breeze Warung
This place is probably one of the coolest restaurants and makes for some great Instagram shots! It has a ton of places to take amazing photos, and that's before the food comes out! See my full TripAdvisor review here, and make sure to give it a thumbs up if you find it helpful.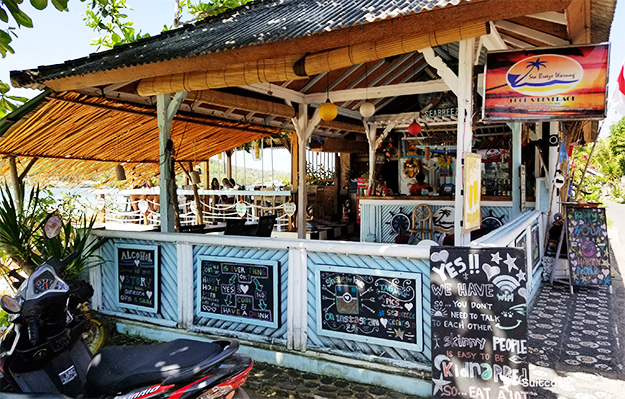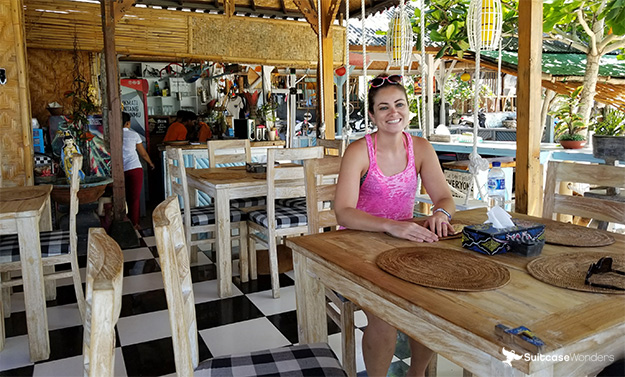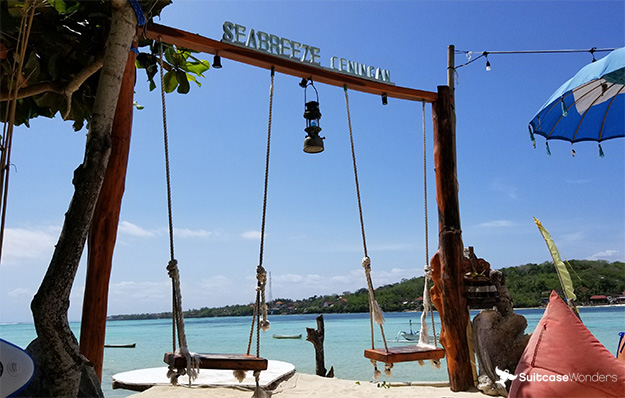 Blue Lagoon
This place has a great atmosphere and very friendly staff. It's laid back, open, great music, and most importantly excellent food for cheap prices! They also have delicious cocktails at great prices, too! Click here to read reviews on TripAdvisor.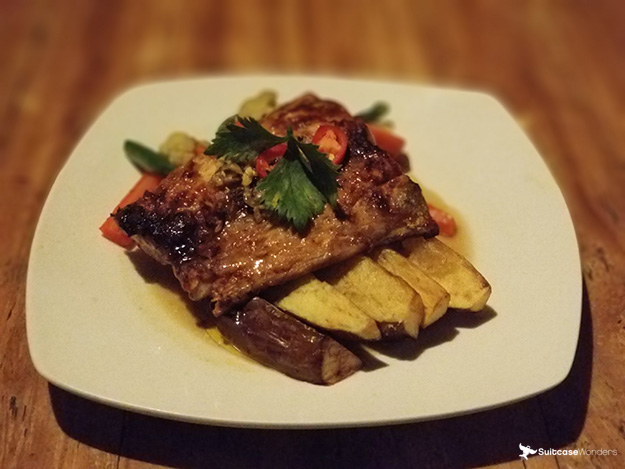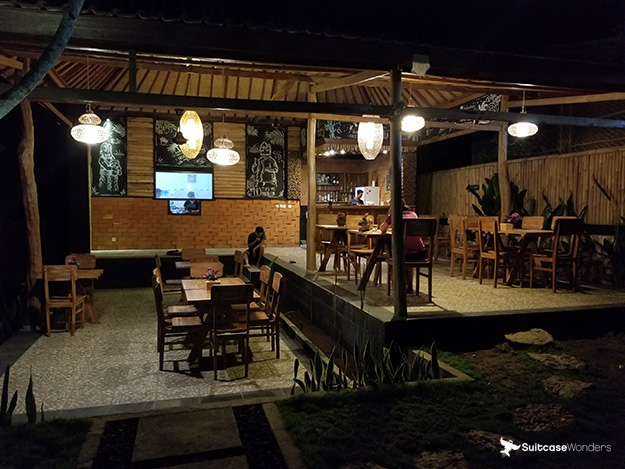 Mahana Point
This is by far the best place on the island to watch the sunset! This restaurant/bar is literally on a cliff and all of the tables have incredible views. They have a spot where you can jump off the cliff for about $5 usd. If you're a surfer, you can bring or rent a surfboard, walk down the steps and put on a show for all the restaurant patrons. They don't have the super friendly staff that I experienced at all the other places, but I didn't let that stop me from enjoying a cocktail and viewing the best sunset on the island!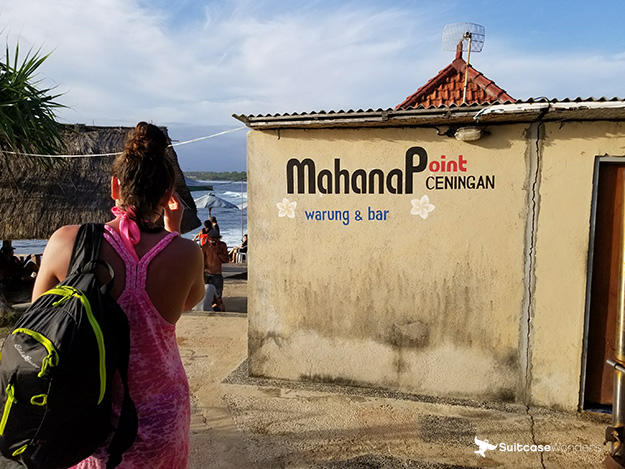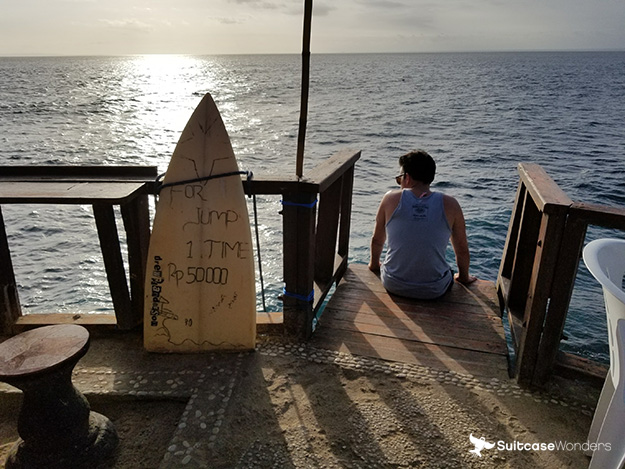 Ceningan Resort
This places has it all. It's a Resort where you can rent rooms, get Scuba Diving certified, and more. I'll explain more below, but as for the food and drinks, they definitely do it right! They have some of the best, strong cocktails that I had on the island, and the food was amazing. I had some great conversations with travelers and even if you're not staying at the Resort, or Scuba Diving, it's still a great place to eat with a nice, laid-back atmosphere. You can even rent a hookah, take it to the end of the pier, and enjoy some Shisha. I believe it's the only place on the island where you can get Shisha.
Things To Do
Have a drink at the Villa Trevally Infinity Pool at Secret Beach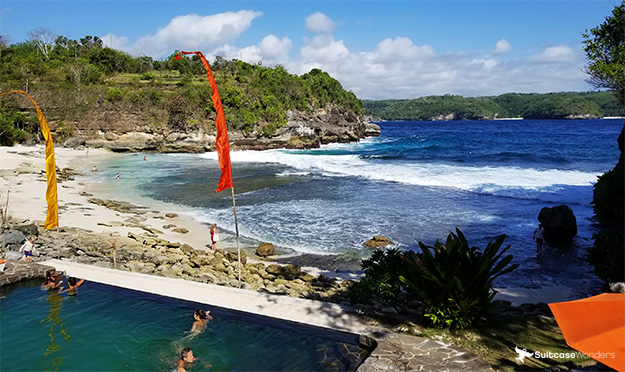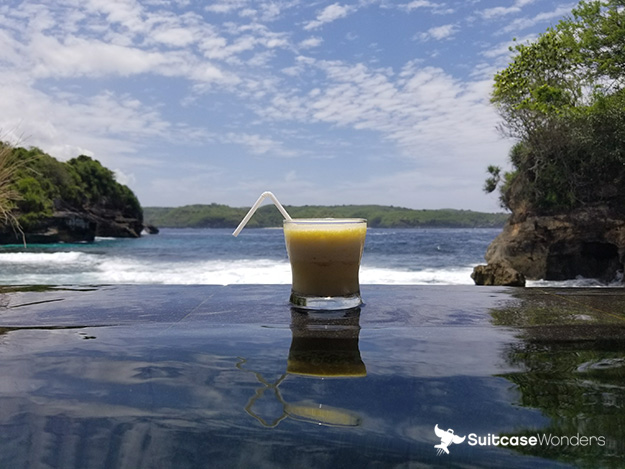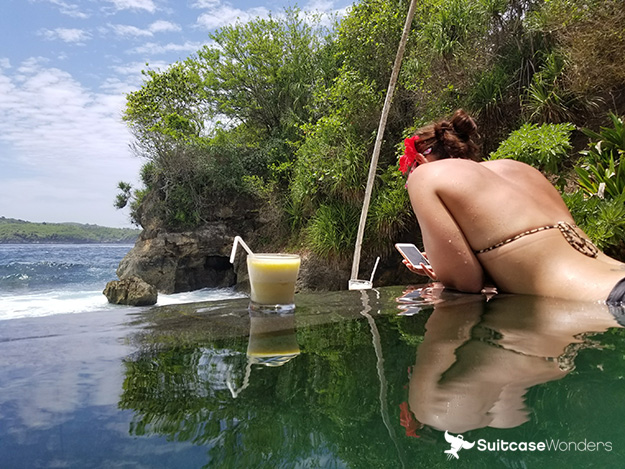 Sunset, Cliff Jump, watch surfers and have drink at Mahana Point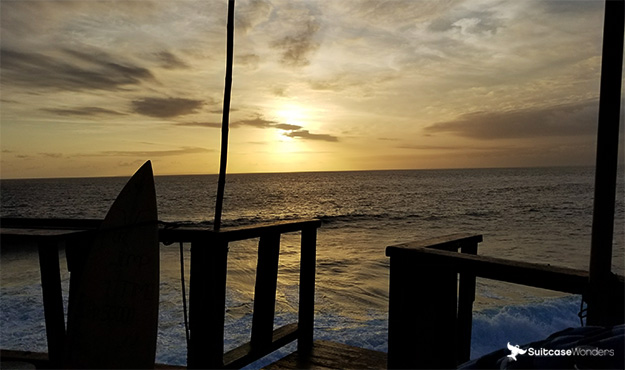 Blue Lagoon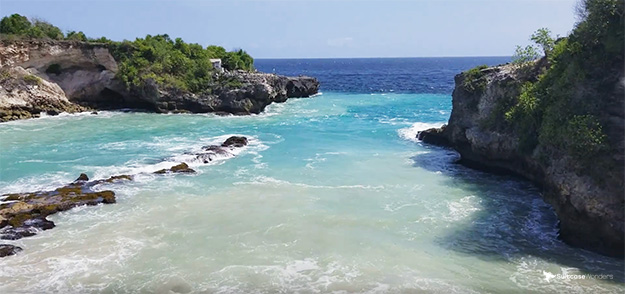 Shisha and drinks on the pier at Ceningan resort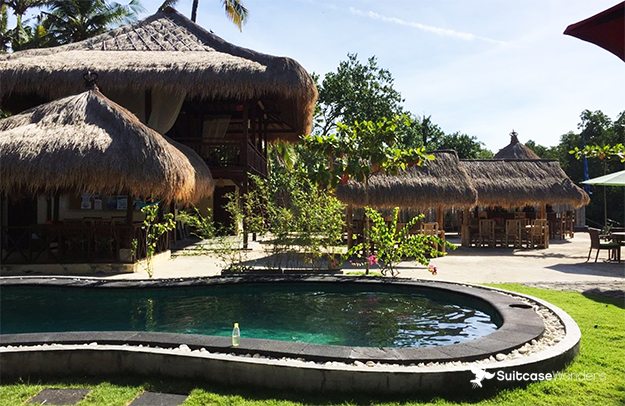 Scuba Dive and Find a Mola Mola Fish (aka Sunfish)!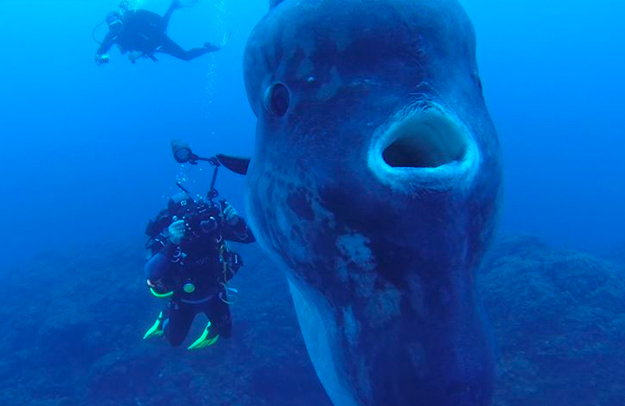 Where to stay
Secret Point Huts
This place is perfect for Surfers and amazing sunsets. Surfers have quick access to Mahana Point. If you're wanting to spend your day laying around on the beach, this may not be the best place for you. There isn't any good beach access from the Secret Huts. You would have to get on a scooter and drive to a beach.
Villa Trevally
This Villa is located right at Secret Beach. You have to walk through this villa to get the beach. They have a restaurant, with open seating, that overlooks the beautiful Secret Beach cove. The coolest part about this place is their infinity pool! If you're not a guest, you can still use the pool if you buy a drink from the bar. If you're wanting to just lounge around on the beach and do nothing, this is probably the best place to stay. Secret Beach is very small, and while there aren't really a lot of great beaches on Nusa Ceningan, Secret Beach is the best. If we came back to this island, I would book here.
Ceningan Resort
If you're looking for an action-packed adventure, filled with water activities and Scuba Diving, then Ceningan Resort is the best place to stay. They have on-site PADI Certification, including a pool to practice in. Again, the bar, food, and Shisha is great! If you came to this island to Scuba or get certified, then this place is where you want to book your stay.
Svaha Villa
This is where we stayed during our time on the island. We found this place on Airbnb and thought it was a great, authentic experience! It's budget friendly, the small villas have a private pool, and it's close to all the restaurants and shops. They will even provide a scooter for rent! If you plan on traveling to the lively island of Lembongan regularly during your stay, then this is a great place to stay. It has outdoor bathrooms, friendly staff, and a small bar that provides cocktails. Right next door is a great restaurant with incredible views.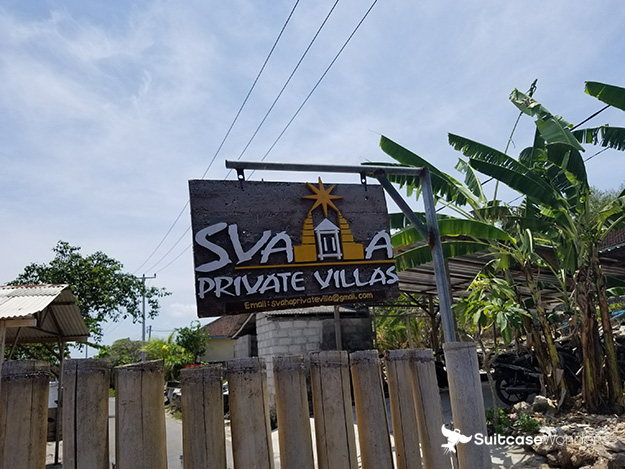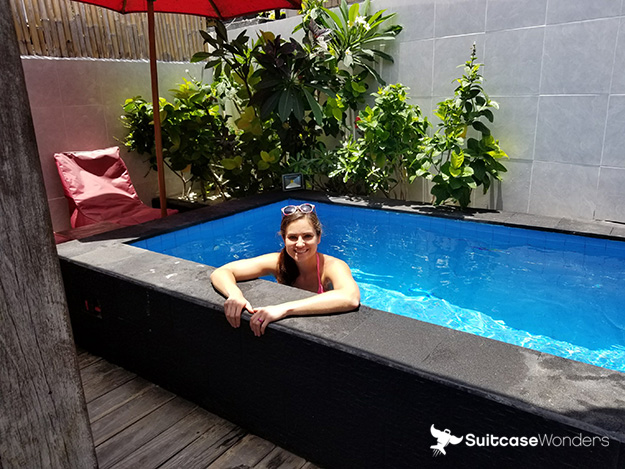 Pro-Tips
Bring ear plugs for sleeping!
All throughout the day, you'll be subjected to all different types of noise. Especially the roosters! You'll hear dogs barking, people chanting, and planes flying overhead as they land on Bali island.
Always have cash
Before you get to the island, have cash on you. A lot of the restaurants and other places don't like to accept cards because the connection is unreliable. We did use our card at a few places, but it's best if you have cash on you. You won't find any ATMs on this island.
Sunscreen
If you're a gringo like us…being close to the equator will not do your skin any good. You'll burn much easier and it won't take long. So make sure you bring sunscreen!
Spare charger
Bring a spare charger for your phone and any other electronics. Pretty much all restaurants have wifi connection that is good enough to do what you need to do online.
Waterproof dry bag
You never know when it's going to pour down rain during your stay. When it does, it only last a matter of minutes. Most of the day will be sunny, but an occasional cloud may come through and dump rain. Bring a dry bag to carry all your electronics, wallet, cash, towel, etc. This is the one I purchased from Amazon.
Final Thoughts
If you're looking for a more lively area, then I'd suggest Nusa Lembongan. Nusa Ceningan is extremely small, but has everything you need. From what I understand, Nusa Penida has the best beaches, but I can't confirm, as I didn't visit that island. If you're looking for the best beaches around, Nusa Ceningan may not be it, but if you want to enjoy the nice, quiet island life for a few days, or want to get Scuba Certified and enjoy other water activities, then this is a great choice!
If you have any questions, please leave a comment below so I'll get a notification and I'll get back to you asap!