Getting to Guatapè from Medellin [Colombia]
Dubbed one of the most colorful cities in the world, Guatape is a great experience and in my opinion a must see if you're in Medellin. It makes for a great day trip that takes a total of approximately 7-9 hours, including the commute. In this post, i'll explain in detail, how to get to Guatape from Medellin.

 
To begin the trip, you have to make your way to "Estacion Caribe" in Medellin. You can do this by riding the metro or taking an Uber or Taxi.
 
Navigating the Medellin Metro is straight forward and the same as any other country. You simply go to the ticket counter (look for the booth that says, "taquilla") and purchase a ride. Keep in mind, there is not a lot of English speakers, so basic Spanish will be helpful. Below is a map of the Medellin Metro. I have a green arrow pointing to Caribe. If you're in Parque Lleras, take a cab or Uber to the Poblado station and take "Line A" to "Caribe".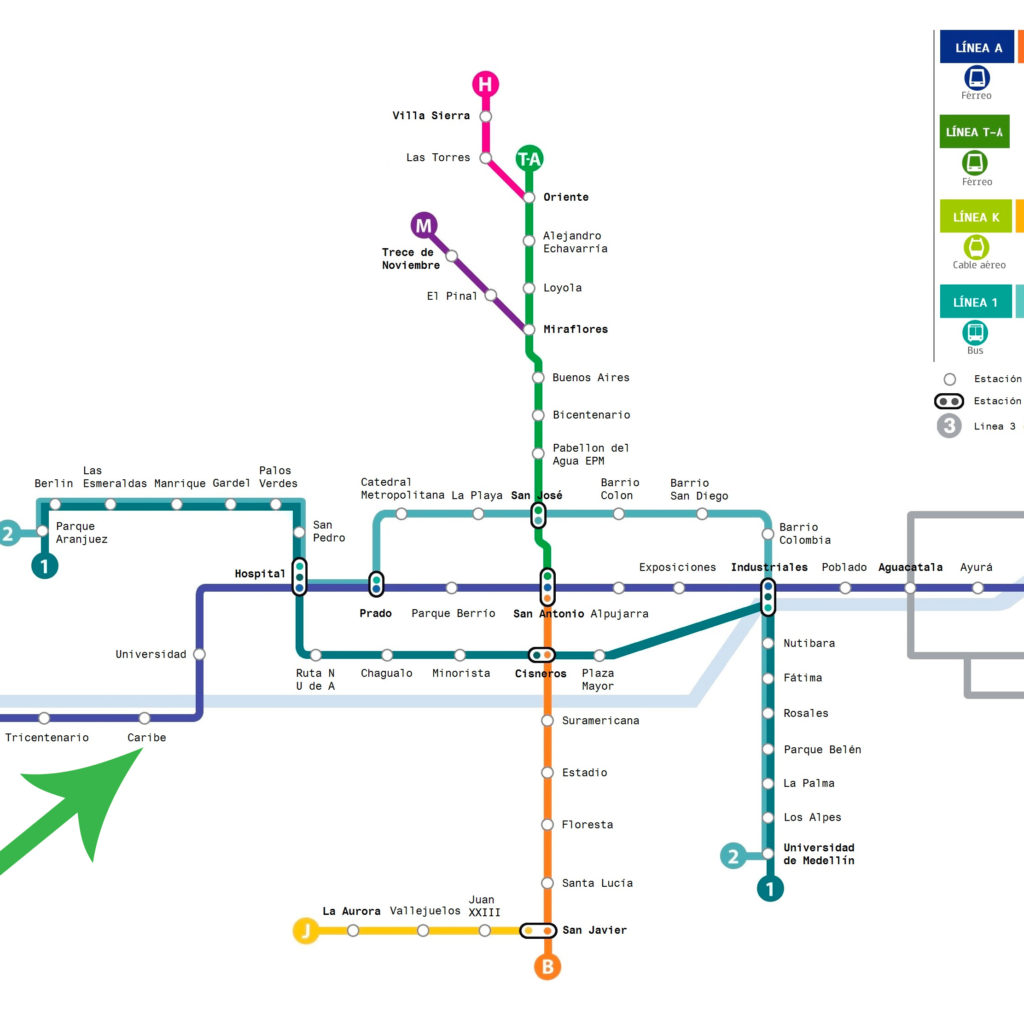 If you're like me, you noticed during your research, that Uber isn't appreciated in Colombia. You may have read things online about not taking Uber. My amigos and I used Uber several times during our 5 day trip. We didn't run into any issues at all. It's the same Uber experience as anywhere else and much cheaper than a cab.
 
Estacion Caribe is about a 15-20 minute ride from Parque Lleras. When you get dropped off, go into the entrance (entrada). Take the stairs or escalator to the bottom floor. It's 2 floors down from where you enter. You'll see a lot of booths with numbers on them. Go right and walk to booth 9. Ask for a ticket to Guatape. It cost 14,000 pesos, which is about $4. What your buying is a one-way ticket, so keep that in mind. You won't be buying a round-trip here. Only the one-way. There are buses that run every hour from Medellin to Guatape. After getting your ticket, you'll continue walking down a little further from booth 9, and on your left, you'll walk through a security scanner, and get your ticket scanned by security. The entire process of arriving to the bus terminal to getting on the bus was about 10 minutes. There are several stores to grab snacks and water near the ticket booths.
 
As you're heading to Guatape, there will be multiple stops in towns on the way. People jumping on and off the bus to sell things or ask for donations.
 
One of the bus stops (about 1.5 hours into the trip) is at downtown El Peñol, about 20 minutes from La Piedra (the rock). Make sure not to get off here. You will know when you're at the rock. We got off at the downtown El Peñol stop, and realized it wasn't right after the bus left. We walked across the street where the buses were and jumped in the back of a truck that drove tourists up to La Piedra. It cost 25,000 pesos. Luckily this stop didn't slow down the trip, but added to the adventure. No matter how you get there, just make sure you get dropped off at the top of the rock. At the top, you'll see tons of tourists, shops, and the stairs up the rock.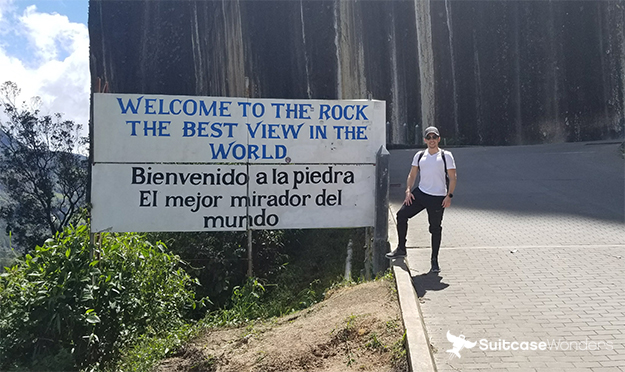 When you arrive, you'll see a small strip of shops selling souvenirs, and food. You have to eat Bandeja Paisa! It's a traditional, protein-packed Colombian meal. You'll want it after climbing the stairs to the top of the rock.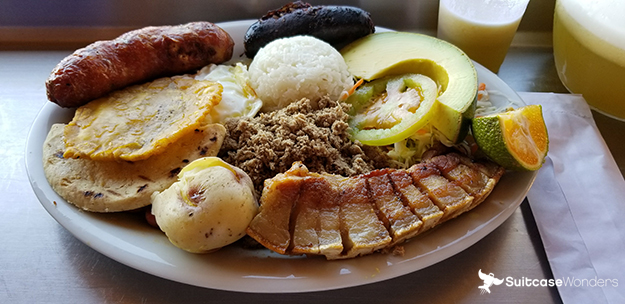 Before climbing to the top, you must stop at the ticket booth and purchase a ticket. It's 18,000 pesos ($6.50 usd). To get to the top, you'll have to climb 700 concrete steps! Be prepared for this workout! Awaiting at the top are incredible 360 views of, what seems like, 100s of tiny dense green islands. Shops sell fresh fruits, cerveza and mango micheladas. To get down, you go down a separate stone staircase that has narrowly carved steps and a lot of twists and turns.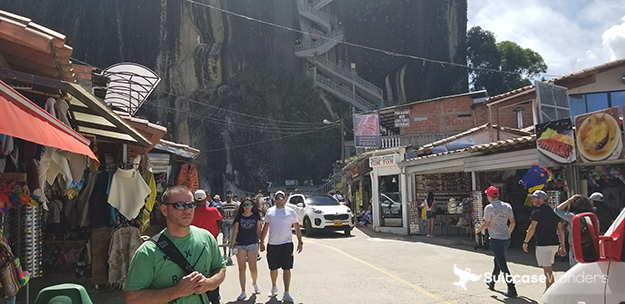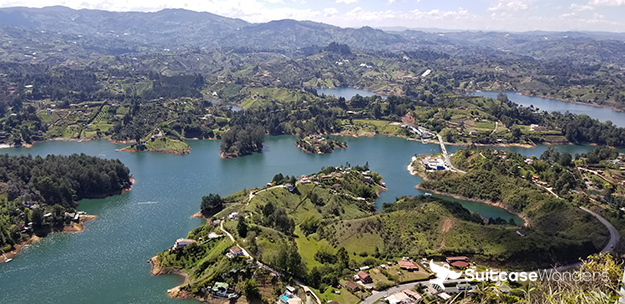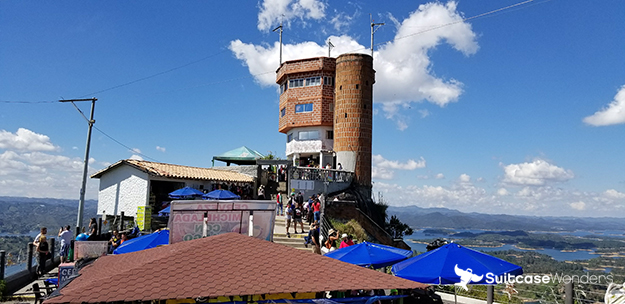 Welcome to Guatape
Once you're ready to head to Guatape, you'll see several auto rickshaws and other forms of transportation to town at the bottom of the rock. You'll hear a bunch of guys yelling "Guatape!" Just follow them, it's just fine and legit. Jump into a ride to continue the adventure to Guatape. The drive to Guatape from La Peidra is about 10-15 minutes. It's only a couple usd for a ride. Just make sure to have small bills in Colombian Pesos.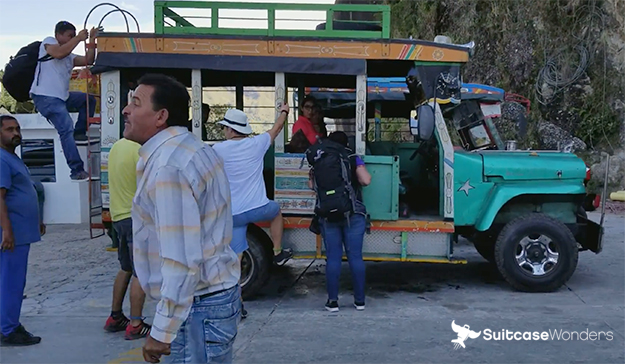 When you get off the ride to town, get lost in the most colorful streets you've ever seen. Finding where you need to go is very easy. It's a very small place and all the other tourists will lead the way. Have a coffee and sit on one of the small cafe tables in the street. And get ready for an amazing photo-taking opportunity!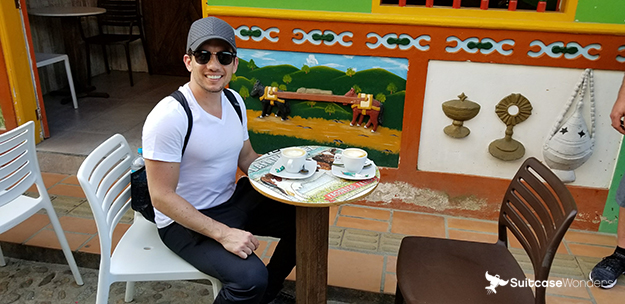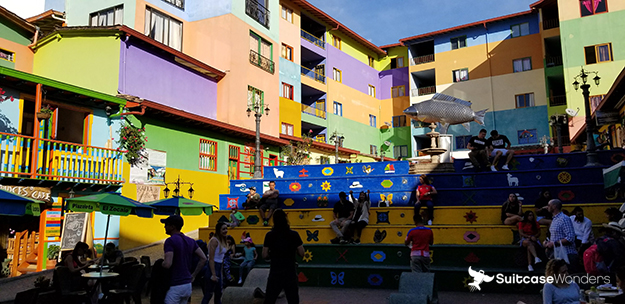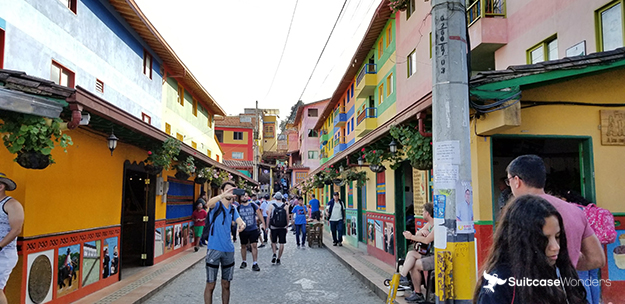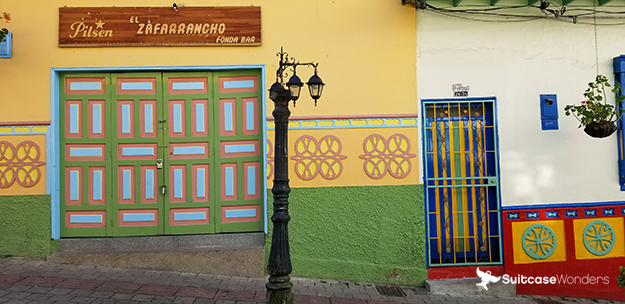 It doesn't take much more than a couple hours to tour Guatape, if you're in a rush. If you're a photographer, I may recommend staying overnight so you can wake up very early to take photos without dozens of tourists walking around.
Getting Back to Medellin
Getting back to Medellin is easy! You'll see the large red and white tour buses on the main street. They have buses in rotation about every 20 minutes. Just find one pulled over on the main street that is heading toward the direction of Medellin and jump on. You won't have to pay until after you get to Medellin, so don't worry about asking how much or trying to pay money. Just jump on and enjoy the ride back to Medellin.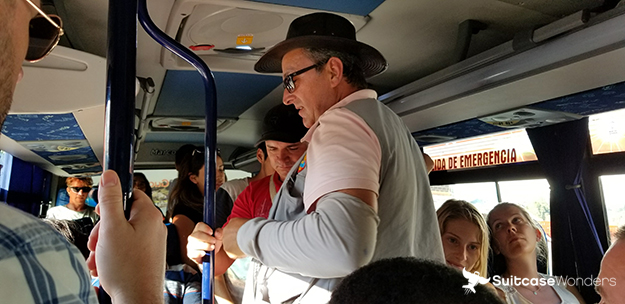 If you have any questions, please write a comment below and I will get back to you very quickly! Thanks for reading and happy travels!