72 Hours in New Delhi, India
Going to India has been a dream of mine since I was a teenager. I had images in my head of absolute chaos and coming home enlightened and grateful. I imagined it a very intense, extreme experience. It was all that above, plus more.
Obviously, in a city of this size, there is an overwhelming amount of things to do. If you're traveling here on business, or stopping by for a few days, this is a great post for you. It's simple, yet gives you a basic guideline to maximize your short amount of time in the city.
Upon arriving, the first images you'll see traveling through Delhi are cows walking freely through the streets, mounds of trash, people openly peeing on the side of the road, extremely poor air quality, cars honking, and insane traffic.
I think it takes a certain type of person to explore and enjoy New Delhi. You have to be adventurous and open minded. At this time, I've been to 15 countries and have never experienced anything like I have during these 3 days in New Delhi.
As I reflect and write this on my journey home, I have an overall feeling of amazement. I absolutely loved India and everything that came along with it. I'm going to tell you how I organized my trip, talk about how I got around, and where to stay.
Delhi is a huge country with lots of places to visit and I found most people are only in Delhi for 2-3 days during their visit. This guide will help you make the most of a short stay.
E-Visa
First, to travel to New Delhi, you must apply and get an eVisa. Assuming you're a US citizen that is. Once you submit it takes 2-5 days to get your approval. Make sure to print it out, because the airline ticket counter will ask for a printed copy. Be sure to keep it accessible once you arrive in India. Also, hold on to it during your trip.
You can apply for the eVisa at this URL (click on "Apply Online" at the bottom of the page): https://indianvisaonline.gov.in/evisa/tvoa.html
Let's jump right into it…
New Delhi Air Quality
It's no secret that the air quality is extremely poor. It could be labeled dangerous during the nov-jan months. I went during this timeframe (December) which is the worst time of the year for air pollution. When you first step outside of the airport, you can feel it in your eyes and throat. I've been asked several times if I wore a mask. I didn't and I didn't see anyone else wearing one. As with anything else, you'll get use to it quick and will most likely leave with a sore throat, like I did. I just look at it as part of the everyday experience there in Delhi and wasn't bothered by it at all.
Areas of New Delhi
There are 3 main parts of Delhi, that all offer different experiences and sights. If you only have a few days to spend in New Delhi you can easily organize your trip into 3 different parts.
Three Parts of New Delhi
Old Delhi
Old Delhi provides the general hustle and bustle created by its labyrinth of narrow lanes and insane crowds and traffic. A traditional and authentic experience can be found here, with those up for sampling genuine Indian street food (Food Tour Recommended) and experience the images you have in your head about India. Jump on a rickshaw or on the back of a bike and get lost in the most un-organized traffic of chaos you'll ever experience.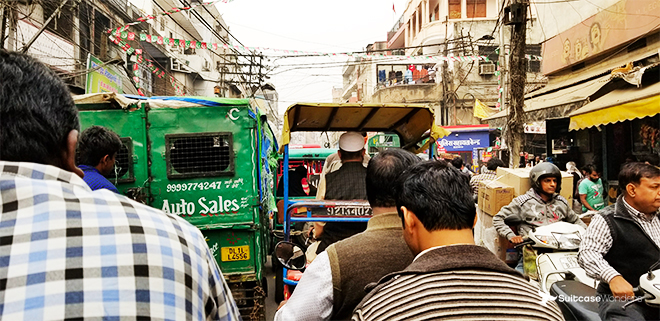 New (Central) Delhi
Central Delhi houses the parliament and other important buildings so you'll find this area to be better kept. You'll see wide roads, lush greenery, and gorgeous houses. Just a stones throw away from Old Delhi, but a world of difference.
South Delhi
If visiting Delhi, I would highly recommend staying in South Delhi. You won't have any problems getting to anywhere else you want to go. South Delhi is considered more posh and where all the rich and famous live. There's more greenery and less crowds of people than you'll find anywhere else in the city.
To get the complete experience of Delhi, it's important to visit all 3 areas, if you have the time. If you only have 72 hours, it's certainly doable, and I'll outline how I did it below.
72 Hour New Delhi Itinerary
Day 1 (Old Delhi)
To fully experience Old Delhi, I suggest doing both a Bike Tour and a Food Tour. After doing these two things in Old Delhi, you'll end the day satisfied knowing that you got the full experience. Below are the tours that I recommend:
Bike Tour
Whenever I visit a new city, one of my favorite things to do when I first arrive is get my bearings by taking a bike tour. You'll get to learn about the history of the city, while visiting important sights. It may sound like an insane thing to do in Delhi, but you're wanting an adventure, right!?
I used a company named, Delhi By Cycle. Click here to visit their TripAdvisor page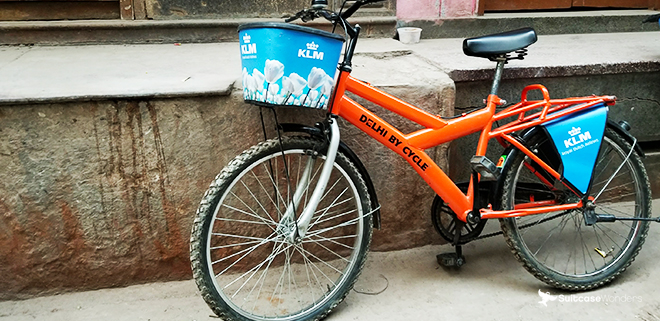 Food Tour
When I visit a new country, I always do a food tour on the first day I arrive. Either that or a Cooking Class. This gives me some background and education on the food that i'll be eating throughout the course of my stay. You'll learn about all the traditional food and ingredients that are commonly used. This is a must do!
I did a Walking Food tour with "Food Tour in India." It was such a great experience and highly recommended! Click here to visit their website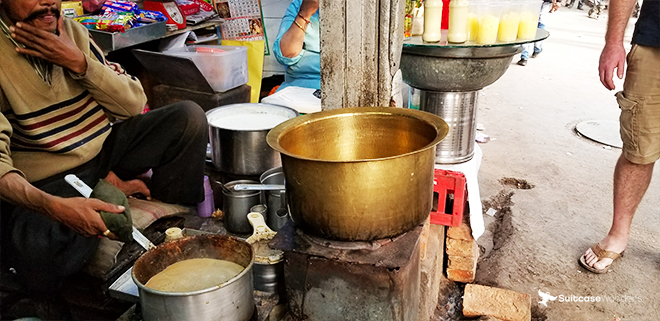 Day 2 (Day Trip to Agra)
A day trip to the Taj Mahal is obviously a Must-Do if visiting Delhi. So you have to plan a Day Trip (which is all you need). Luckily I had friends who rented a private driver to take me from Delhi to Agra and back. You'll be able to find lots of tour companies on TripAdvisor that will pick you up early AM at your hotel in Delhi and drop you back off. This is definitely a full-day event, as Agra is about 3 hours away.
While you're there, make sure the tour includes a trip to Red Fort. Keep in mind, this is one of the most popular tourist attractions in the world, so you'll be hammered with people trying to sell you things and offer you tours. So make sure to plan ahead carefully to make sure the tour covers everything from the transportation to giving you an actual guided tour of both the Red Fort and Taj Mahal.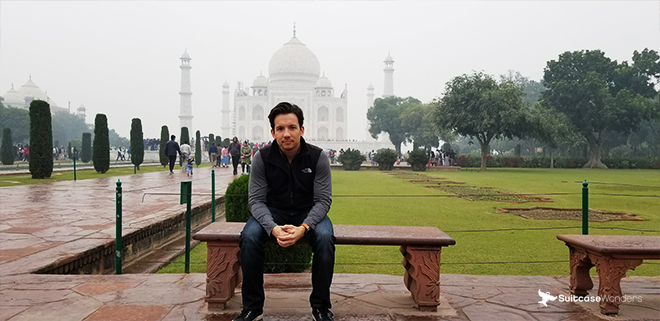 Day 3 (New Delhi & South Delhi)
You can cover the most significant tourist attractions in both New Delhi & South Delhi in a full day. If the budget allows for it, I would highly recommend hiring a private driver/guide that will take you to these destinations. You can tailor your own trip, if that's your thing and they'll drive you to all the destinations. Again, use TripAdvisor as your resource to find one, so you can read other reviews. It will make this day much less stressful than trying to get everywhere on your own. Plus it's nice to have a guide to navigate you through the line. With having such a short amount of time, it's important to maximize the travel efficiency!
TIP: What's interesting is that ALL of these attractions have a "Foreigner Tourist" line that's separate than the line for all the Indians. So if you are going without a guide, make sure that you don't get stuck behind the huge ticket line to get into the attraction. At all of these places, go all the way to the front and you'll find a short line for the Foreigner ticket counter.
Having a pre-arranged guide will also save you from the hassle of people trying to hustle or scam you. I touch on this a little more at the end of this post.
Here are the sights that I feel are a must-see while in Central Delhi and South Delhi:
Lotus Temple
The Lotus Temple is a unique and beautiful structure surrounded by a well-kept garden. Excellent for photo opportunities. There isn't much to see inside, so if you don't feel like waiting in the long line, you're not missing much.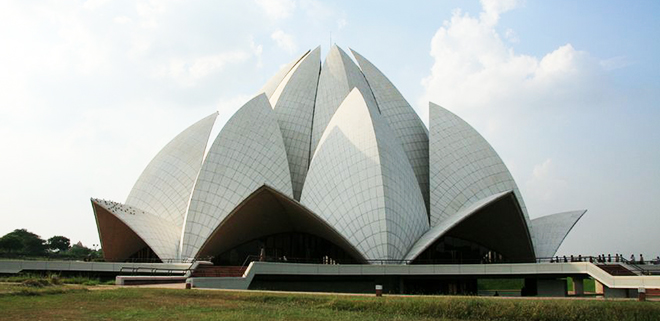 Hauz Khaus
This is a relaxing stop, with plenty of places to picnic and go for a peaceful stroll. This area is also a great location for a home base, as it's very central to everything. You'll find high-end places to eat and drink and a nice lake to walk-along after grabbing some food. Check out AirBnbs/Hotels in this area.
Connaught Place (CP)
Connaught Place is right in the heart of Delhi, with masses of restaurants, bars, and a shoppers paradise. It's very crowded and lively. If you're not Indian, you'll be smothered with people trying to "help" you or sell you stuff.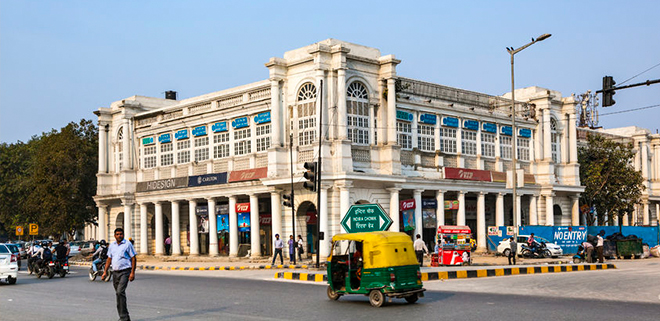 Swaminarayan Akshardham
The architecture of this temple is breathtaking. It's surrounded by huge walls, but once you get beyond them, you're in a wide open compound with lots to explore. It's a bit chaotic before you get inside. There is a huge line and the security is very strict! There are absolutely no pictures. You need to keep your phone locked in the car, along with any other electronics. I had a smart watch and was sent to 3 security guards who were concerned it may have had a camera. The last thing you want to do, after staying in line so long, is get sent back because of something like that or having a phone with you. They have this high security because of terrorist bombings from the past. It's best to play it safe and keep it all in the car. Once inside, the temple is quite the walking distance. So make sure you have comfortable shoes on!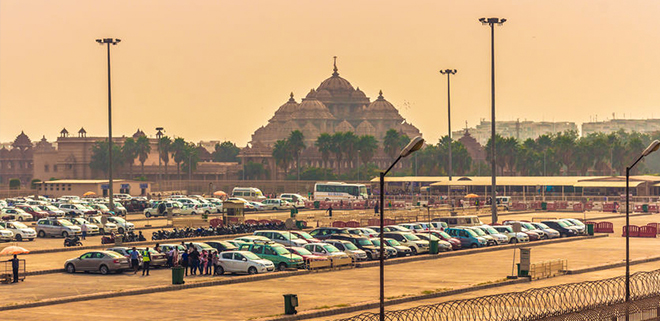 Humanyan Tomb
Humayun's tomb is the first monument to be built as a tomb with the Taj Mahal being the second. It's very huge, has a pleasant garden, and lots of photo opportunities. You can walk around the entire structure and even go inside. The sizes of these structures are un-real!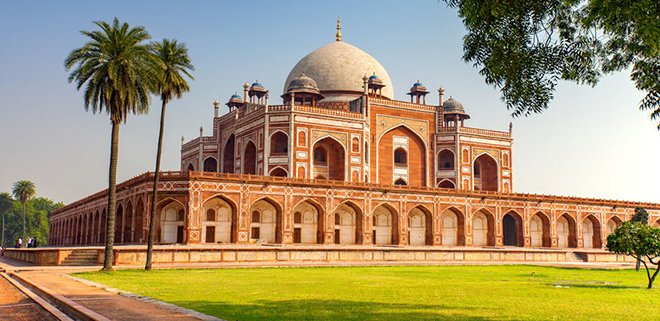 Transportation
Metro
I didn't use the Metro much, but when I did, it was very simple to get around. Delhi's Metro System is one of the largest in the world. It's modern, sophisticated and straight forward. Just know ahead of time where you're wanting to go, and where you're leaving from so you can easily navigate through it.
Auto Rickshaw
You'll see Auto-Rickshaws everywhere in the city. You can describe them as covered bicycles with seats for 2-3 people that uses a moped-type engine. They are very common in India. It's very cheap to get from one place to another. I paid about 80 rupees ($1.20) to go a few miles. It's a fun experience and one of the easier ways to navigate through the crazy traffic. It's an experience that you must do! If you're on your own and traveling a short distance, just stand outside, where ever you are, and you're sure to see one.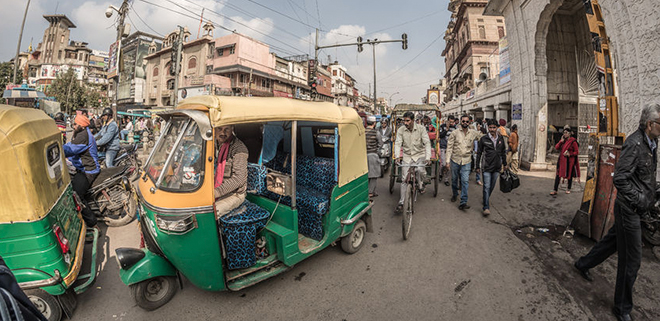 Private Driver
As mentioned before, if you are in Delhi for only a short visit, hiring a private driver is a great idea and not as expensive as it might sound. This is the most stress-free option to get around and allows you to see the most.
Uber
This is another great option if you don't plan on hiring a private driver. I used Uber several times as it's a fast and cheap way to get around.
Scams
Before going to New Delhi, I got sucked in to watching several videos on YouTube about people getting scammed in India. We always had our friends, who were from that area, who were with us. Occasionally we would wander around by ourselves, but I never ran into any situations where I felt unsafe or someone was trying to scam us. Just use common sense. Anyone that's trying to get you to go to the "Tourism Office," just don't do it.
I hope you found this post informative. If you have questions, please leave a comment. I get notifications everytime a comment is left and I will reply right away.