24 Hour Layover in Reykjavik, Iceland
For our travels over to Europe, we flew Icelandair from Seattle to London. The biggest reason for choosing this route was the 24 hour layover in Reykjavik. It's a place I've always wanted to visit and mainly because of all the amazing pictures you see of The Blue Lagoon online. I felt it was a great opportunity to get it checked off my bucket list. Icelandair has a cool deal where you can extend your stay in Iceland at no additional charge. If you're the outdoors type and don't mind cold and extreme winds, I'd recommend staying a few days. There are so many awesome things to do.
The first thing you notice, when landing, is the volcanic landscape that Iceland is built on. It looks like you're entering another planet. It got me very excited as I've never seen anything like it before.
Renting a Car
When we arrived to the airport and went to the Car Rental area, I started searching my phone for our car reservation. I quickly realized that I didn't rent a car for Iceland. I've been reserving so many things lately for upcoming trips, I completely spaced getting a car for Iceland! There were a lot of car rental booths side-by-side, so I walked over to the one that didn't have anyone in line (EuropaCar), as I was anxious to make the most of our short 24 hour stay. They quoted me $200 for a 24 hour rental. I stepped to the side and tried to reserve a car online to see if I could find a better price. Every website I used said no cars for available, because I needed to book at least 24 to 48 hours in advance online. So I walked back over to the counter and accepted the high-priced rental.
It was a couple minute process, they handed us the keys and we walked over to the car parking lot, to begin our journey to our first stop, The Blue Lagoon.
Driving from the airport to The Blue Lagoon was a straight shot and very easy. You can tell all the tourists who rented a car and driving for their first time too. There's a line of them driving slowly in the right lane. Oh, I'm sure you may know this, but you drive on the right-side of the road in Iceland, like you do most everywhere in the world. If you are coming from the UK or Australia, I would think it's still pretty easy to drive the roads as there isn't a lot of crazy traffic. Just go slow and take your time.
It's about an hour drive from the airport to downtown Reykjavik. Between that drive and The Golden Circle, I didn't drive on any un-paved roads. They were all nicely paved, smooth and again, an easy drive. There were some areas, during the drive on The Golden Circle, where I didn't see any cars for miles.
IMO, renting a car is definitely the way to go if you have a short stay.
Weather
Coming from 90 degree, sunny weather in Croatia, I was not prepared. I knew Iceland would be cooler, but the wind chill I did not expect at all. It was freezing cold. When we ask locals, they said it's cold and super windy all year round. So basically I was freezing until I bought some (very expensive) layers for my time there. And boy I'm glad I did. It was worth every penny.
Cost
Everything in Iceland costs a premium. If you're buying things at the tourist spot, be prepared to pay a lot. For example…we bought 2 latte's and a bottle of water at The Blue Lagoon, which cost $45. My North 66 wool zip-up sweater cost me $160. Another example is when we started our journey on The Golden Circle, we stopped at a small cafe in a non-touristy area. We bought 2 latte's and 2 pastries for $17.
The Blue Lagoon
It took me about 35 minutes to get to The Blue Lagoon from the airport. As you're getting closer, you can see the steam from off in the distance. When you're approaching, the first exit is to a couple restaurants. Continue past those and you'll see the "Blue Lagoon" flags getting worked hard by the wind. Parking is free and there was plenty of available space. We kept all our luggage in the car, as it had tinted windows. I felt completely comfortable leaving my $10k camera equipment in the car while we went inside. Maybe I'm a little more trusting them some. 🙂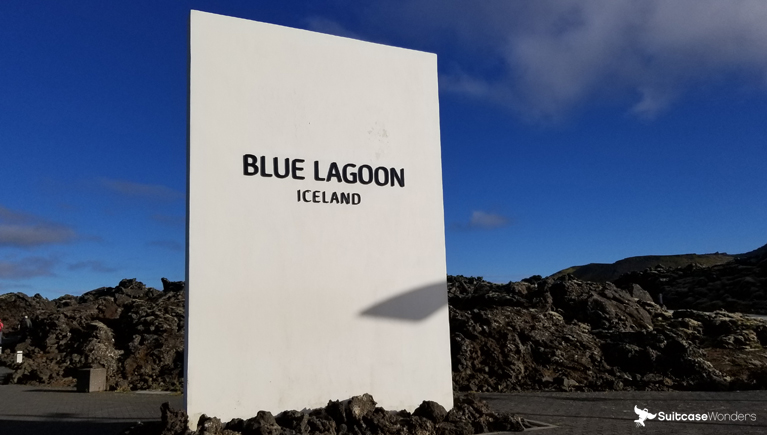 Get your tickets in advance online! This is a must. You have a couple options…Comfort or Premium. We opted for the Comfort Option which was perfect. The Premium isn't really needed in my opinion. When you get into the building, they have lines separated for Comfort and Premium. Also there's a line for people without tickets, which was the longest. We were only in line for about 10 minutes, as it moved quickly.
When you get up to the counter, they provide you with an electronic wrist band, which will open your locker and you can charge drinks and other things to it at the bar. When you're finished, you'll return the band and pay at the end. They will provide towels for you, a complimentary mud mask and a complimentary drink at the swim-up bar.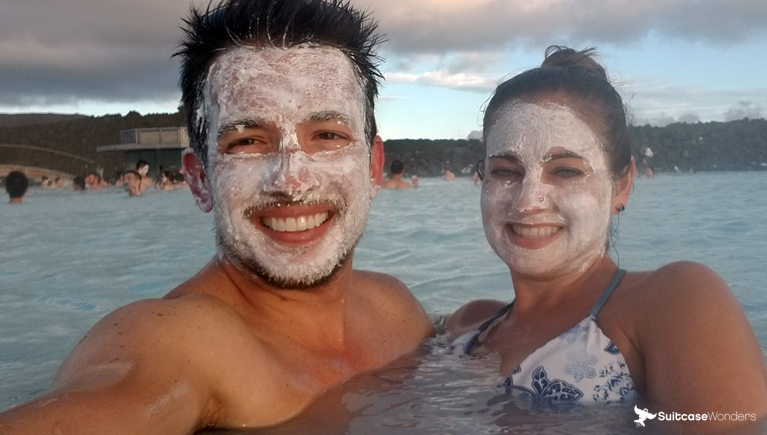 Next, you head to the locker rooms. You have to search out a locker that's cracked open, which means it's available. Throw your stuff in, shut the door, then scan your bracelet. To unlock it, you simply scan your bracelet again and it will pop open.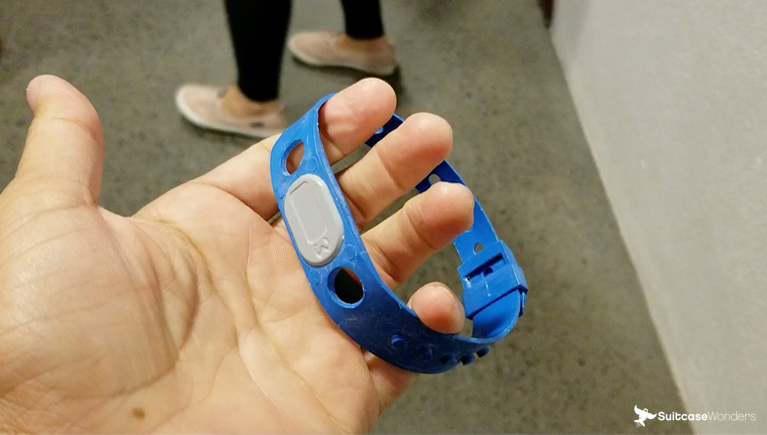 Then rinse off in the shower and head down to the lagoon. The first thing you'll notice is that it really is as big and blue as the photos! It's breathtaking and we loved every second of it. The bar to get your drink is off to your right and the mud masks are off to your left. So you just have to swim over to get them.
Pro-Tip: Bring a waterproof case for your phone! That way you can take amazing photos without worrying about ruining your phone. If you don't bring one, you can purchase one at the bar.
Hot Dog
By the time we finished with The Blue Lagoon, it was getting late and we needed food, stat. Not to mention being exhausted from traveling all day. We didn't make any prior reservations, so we headed over to the famous Bæjarins Beztu Pylsur (which translates from icelandic to english as, "The best hot dog in town") hot dog stand. Both Shellee and I don't like hot dogs…well the American kind anyway. These were different and delicious! It's lamb-based and covered in ketchup, mustard, fried and raw onion and remoulade, a type of sweet mayonnaise dressing). The stand is open until 1am, for those late night cravings. What really catapulted the fame of this place was President Bill Clinton's visit back in 2004. And since them several other celebs have been spotted there. But who cares about that, it's just one of those things you have to try while in Reykjavik! They cost a little over $3 a piece.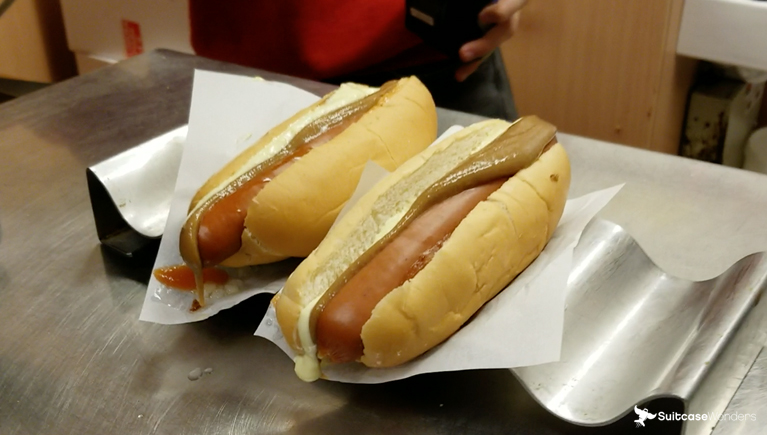 Golden Circle
The next morning, we woke up early to get a head start on The Golden Circle. We had to be back at the airport for our 5:50pm flight and didn't want to miss anything on this road trip. We left about 7am and stopped at Mosfellsbakari. They had amazing pastries and coffee. Plus it's on the way!
The total trip took 5 hours. From the start to getting back to downtown Reykjavik. There are some other things we wanted to see along the way, but just didn't have the time. Well, in hindsight, we did, but we chose to use that time to explore a little of downtown Reykjavik.
Thingvellir National Park
Our first stop was Thingvellir National Park. It was about 45 minutes from Reykjavik. Our GPS took us to the Visitor Center (which has bathrooms), but we were there too early. Wasn't much to see there anyway. The really cool parts of the National Park are down further.
There are a lot of stops for photo-taking opportunities throughout the park. We didn't have a lot of time to spend here or at other places, as we were crunched for time, but we still stopped to admire the natural wonder.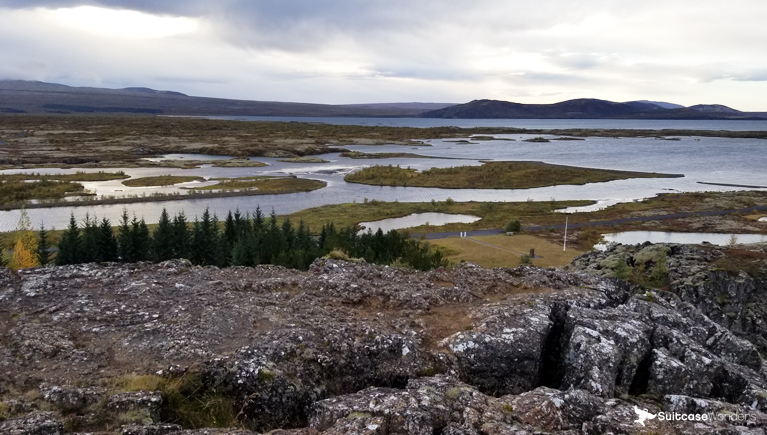 Geysir
Next up was Geysir. When you arrive, there's a visitor center that has a restaurant, souvenir shop, and clothing shop. I had to buy a hoodie and gloves here, to help with that early morning wind! We also got our souvenirs out of the way, and ate some delicious pastries…again. 🙂
Parking here is free and there is no entrance fee to see the Geysir. In fact, almost everything we did, with the exception of the Kerid Crater didn't have an entrance fee!
After you warm up with a hot drink, walk across the street to see the big Geysir. It blasts off every 8 to 10 minutes. It's cool to see and worth the stop on the Golden Circle route.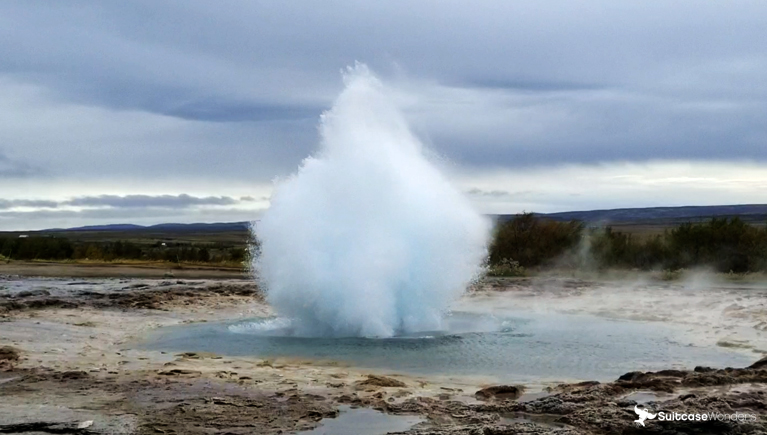 Gullfoss Waterfalls
A short 15 minute drive from Geysir, you'll find Gullfoss Waterfalls. This is a one-way trip and you end up going back past the Geysir after your visit. As you approach the waterfalls, you'll see a fork in the road. The signs display a restaurant and parking to the left and the waterfalls to the right. It's a little misleading and may come across as you having to park to the left, but I continued going right, straight down to the waterfalls. There was plenty of parking and again, there was no entrance fee.
This place was one of my favorites. I just stood there and stared at the waterfalls because they were so amazing. There are trails that you could walk on and get really close to the top of the waterfall. Because we were short on time and we didn't want to get wet, we opted to view from afar and then continue the journey.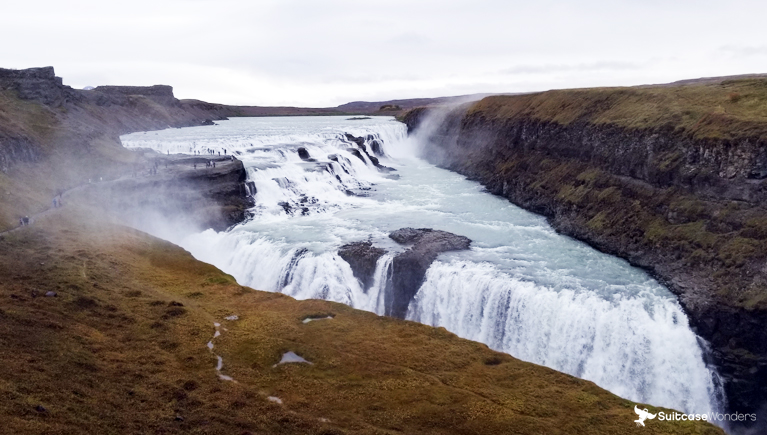 Kerid Crater
This was one of the places I was looking forward to the most after my research of The Golden Circle online. It's about an hour drive from Gullfoss Waterfalls. I saw really cool drone shots, so of course I had my drone prepared. When we went up to the ticket booth, there was a sign in the window that clearly said, "No Drones." A little bummed, but that didn't stop me from heading up to the ridge of the crater to get some awesome shots with my camera.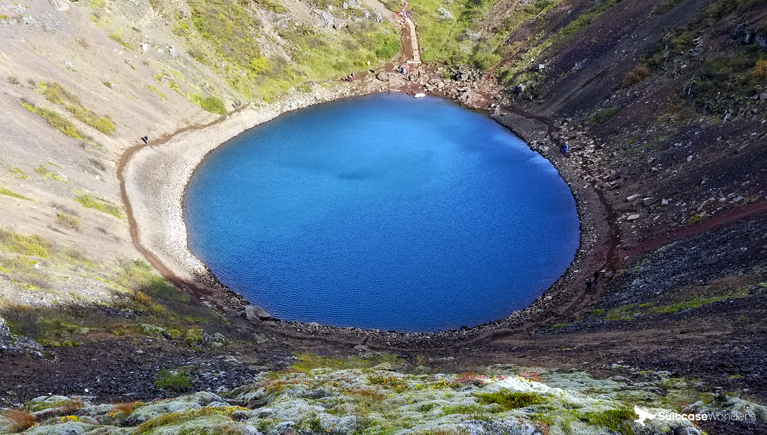 Downtown Reykjavik
With our limited time, we made it back downtown with 2 hours to spare before heading to the hour drive back to the airport.
First we grabbed lunch at Svarta Kaffið to try their lamb stew in a bread bowl. We we got to the restaurant all the tables were full. We waited about 10 minutes before being seated. We had hot tea and the lamb stew, which hit the spot. It had so much flavor and the bread bowl was delicious. Apparently, lamb stew is a must-have dish in Iceland and we were both glad we tried it.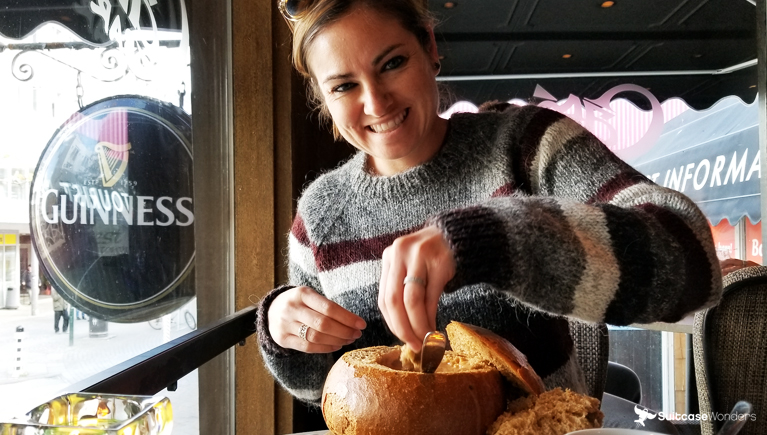 Next, we used the rest of our time by strolling around the streets and checking out Hallgrimskirkja. It's the largest church in Iceland and one of the tallest structures in the entire country. For a cost, you can go to the top for the best views of the city.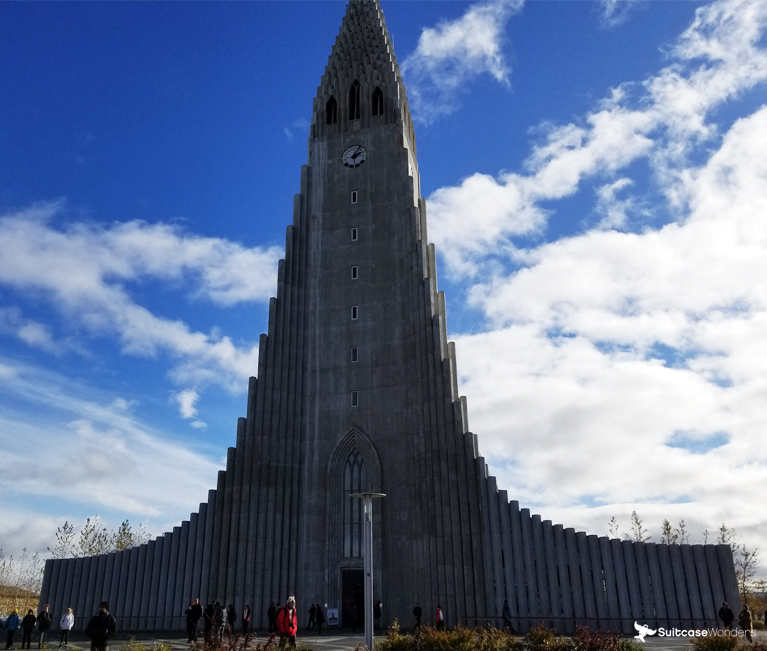 Getting back to Airport
Our flight departed at 5:50pm and we ended up leaving downtown Reykjavik about 3pm. Again, it takes around 45 minutes to get to the airport from downtown. It was the perfect amount of time to get the rental car where it needed to be, took a shuttle to the airport and breezed through security.
If you're renting a car, there are plenty of gas stations right before the airport. I made the mistake of getting gas 15 minutes away from the airport and the rental car agency charged me $14 because it wasn't completely full, due to the 15 minute drive.
Getting through the airport was very straightforward and easy. We had enough time to charge up our phones, eat a late lunch and buy food for the plane ride.
Thanks for reading this post and if you have any questions, ask them in the comment section and i'll reply right away!
Happy Travels!